Register for Adult ESL Classes through Continuing Education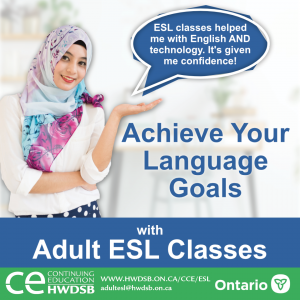 HWDSB is pleased to share details about Adult English as Second Language (ESL) classes offered through Continuing Education.
Classes run all year from September to June, as well as a short intensive program in July. Learners can start any time and we have continuous intake throughout the year at Hill Park Learning Centre (Central Mountain), City Learning Centre (Downtown), and Parkway Learning Centre (Stoney Creek).
In-person classes during the day: Monday to Friday from 9 a.m. to 1:50 p.m.
Online classes at night: Monday/Wednesday or Tuesday/Thursday from 6 to 8:30 p.m.
These classes are open to anyone age 18 and up who does not have English as their first language. If you are a permanent resident or refugee (not a claimant), your children can go to childcare at Hill Park or Parkway at no cost. Childcare is open for children from six months to five years old.
Learn more: Continuing Education ESL Programs
Register: Adult ESL Classes
Updated on Wednesday, March 02, 2022.