2022-23 Remote Learning (Elementary) and eLearning (Secondary)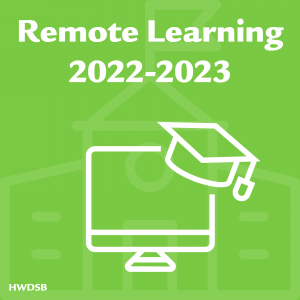 A remote learning option for the 2022-23 school year is a Ministry of Education requirement.
2022-23 Remote Learning (Elementary)
There are approximately 110 students currently registered for 2022-23 Elementary Remote Learning, with only the English track being offered.  These students will begin the school year registered in a remote learning class. The class is likely to be at a school different from the student's home catchment school.
Prior to the start of the school year, there will be another opportunity for elementary families to indicate their interest for this remote option. Registration for Elementary Remote Learning will be open on Monday, August 29, 2022 at 8 a.m. and will close on Wednesday, September 7, at 11:59 p.m.
Families selecting remote learning will be choosing this for their child for the full 2022-23 school year. Students will begin attending their remote class once the re-organization process that happens in early October takes place.
Parents, guardians and caregivers can contact their school as of August 29 if they encounter any difficulty accessing the Parent Portal to register their student for remote learning.
2022-23 eLearning (Secondary)
ELearning continues to be the remote option for secondary students. Students should contact Student Services at their school if they are interested in participating in eLearning for the 2022-23 school year.
Updated on Thursday, June 30, 2022.