French Teacher Recruitment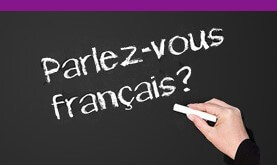 At HWDSB, we have a mission: to empower students to learn and grow to their full potential in a diverse world. We have more than 5,000 staff and each one contributes in their own way to student learning and achievement.
We are proud of our staff and it shows as we celebrate their work and their outside
accomplishments. We encourage staff to grow as professionals and as leaders. Our Human Resources Department offers tremendous supports such as training, in-services and mentoring. HWDSB makes positive culture a top priority and is always looking for ways to foster a healthy and supportive workplace.
HWDSB is an anglophone school board that offers two French programs. Our Core French program begins in Grade 4, with approximately 40 minutes of instruction per class per day. Our French Immersion program begins in Grade 1, with students receiving a minimum of approximately 85 per cent of instruction in French. Our FI program continues into secondary at 2 sites, we offer a wide range of courses including Math, Science, Geography and History. The FI program at HWDSB is a growing program with sites across the district.
---
Au conseil scolaire du district de Hamilton-Wentworth (HWDSB), nous avons une mission: de valoriser nos élèves d'apprendre et de croitre à leur potentielle dans un monde divers. Nous avons plus de 5 000 employés et chacun contribue à la réussite de nos étudiants à leur manière.
Nous sommes fiers de notre personnel et nous célébrons leur travail et leurs accomplissements hors du travail. Nous encourageons notre personnel de continuer à croître comme professionnels et comme leaders. Notre département de resources humaines offre de l'appui tels que l'entraînement, les ateliers et le mentorat. HWDSB croit aussi dans un lieu de travail sain, et cherche toujours pour des façons pour créer un lieu de travail positif qui appui les employés.
HWDSB est un conseil scolaire anglophone qui offre deux programmes de français langue seconde. Notre programme de base commence en quatrième année avec des classes d'environ 40 minutes par jour. Nous offrons aussi un programme d'immersion française précoce qui commence en première année, les élèves reçoivent à peu près 85% de leur enseignement en français.  Le programme d'immersion continue dans deux écoles secondaires, on offre une gamme de cours qui incluent les Maths, les Sciences, la Géographie, l'histoire et d'autres. Le programme d'immersion au HWDSB est un programme en pleine croissance avec des écoles dans toute la région.
French Teachers
HWDSB invites qualified French teachers to apply!
We are adding French teachers to our occasional teacher roster!  Candidates may also be considered for Long Term assignments.
Candidates must be certified by the Ontario College of Teachers (in good standing). New graduates pending OCT certification are welcome to apply!  French as a Second Language, Part 1 or equivalent and native-like French fluency are required, along with strong English skills.
How to Apply
New Teachers wishing to submit a teaching application to Hamilton-Wentworth District School Board must apply directly to www.applytoeducation.com (an external service provider). Mail-in applications will not be processed.
Individual school postings will not be posted on Apply to Education.
When applying to HWDSB through www.applytoeducation.com, your application package must include:
Cover Letter
Resume
Practicum Assessments or Principal Evaluations
Copy of Ontario College of Teachers Certificate of Qualification (where possible).
Applicants are thanked in advance for their interest in this position, however, only those scheduled for an interview will be contacted.
Accommodation for applicants is available in the recruitment process.
Les enseignants et les enseignantes de français
HWDSB invite les enseignants qualifiés de français à faire application!
Nous ajoutons les enseignants de français à notre liste d'enseignants occasionnels! Les candidats peuvent aussi être considérés pour des positions à long terme.
Les candidats doivent être certifiés par le collège d'enseignants de l'Ontario (en règle). Les nouveaux diplômés en attente pour leur certification du collège sont bienvenus à faire application! Le français langue seconde, Partie 1 ou l'équivalent, et une fluidité en français rapprochant la langue maternelle, sont requis, avec de fortes compétences en anglais.
Comment postuler
Les nouveaux enseignants voulant postuler pour un emploi en enseignement pour le conseil scolaire du district de Hamilton-Wentworth doivent faire demande directement à 
www.applytoeducation.com
 (un fournisseur de services externe). Les demandes d'emploi envoyées par courrier ne seront pas traitées.
Les postes d'écoles individuelles ne seront pas affichés sur Apply to Education.
Lorsque vous faites application à HWDSB par www.applytoeducation.com, votre demande doit inclure:
Lettre d'accompagnement
Curriculum Vitae
Évaluations de stages d'enseignement et de directeurs
Une copie du certificat de qualification du collège d'enseignement de l'Ontario (où possible).
Nous remercions les candidats pour leur intérêt dans ce poste, par contre, seulement ceux qui recevront une entrevue seront contactés.
Adaptation pour candidats est disponible durant le processus de recrutement.