SHAE Students Connect Through Food and Filmmaking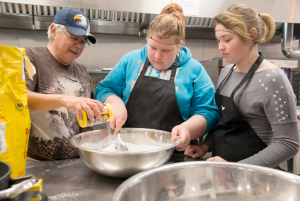 HWDSB students in the Strengthening Hamilton's Aboriginal Education (SHAE) program had a unique experience this spring, as they participated in the nine-week video project with Factory Media Centre entitled Traditional Recipes: Food & Filmmaking.
About 17 SHAE students participated in the weekly cooking and filming sessions that blended cultural learning, cooking First Nations food and the hands-on multimedia skills youth need to share their voices through video.
"Usually in classes, students don't know each other well," said SHAE student Gigi Moxley, who in a video about cooking salmon received a chef's hat from David Wolfman for arriving so early. "But we worked together as a team – at first, I did some cooking, then I learned about filming and using different camera angles."
It was a team effort involving the Factory Media Centre, the Hamilton Regional Indian Centre (HRIC) & The Kitchen Collective, a non-profit co-op commercial kitchen and collaborative space. SHAE staff helped connect the filmmakers with First Nations chefs.
"When you are in a community like this, you tend to know someone," said Stephanie Skye, a program support worker for SHAE at HRIC. "Some are family members of mine, some are SHAE graduates, Elders, community members and people we haven't worked with before."
The series covers a range of recipes, from traditional Three Sisters Soup to Bison Sliders. Big themes arise in each video, whether it is about respect for the earth, grant writing, education or two-spirit identity. Students also discussed the importance of cooking for your community, and the reality of cooking on a budget after eating pricey bison meat.
"There are classes in which teachers and students are cooking all the time, but I hope these videos will give them a chance to incorporate the learning into their classes," said Native Studies teacher Jerica Fraser. "I hope it translates because there is not a lot shared about indigenous cooking."
Learn more at http://trff.ca/.
Updated on Thursday, June 08, 2017.