Need to improve your language skills quickly?
Come to the English Every Day program!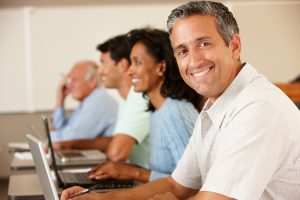 Program Description
This program gives you the opportunity to improve your English language skills following an intensive day time schedule. It includes development in speaking, listening, reading, and writing from Canadian Language Benchmark (CLB) 1 to 7, plus Literacy. Technology skills are integrated on a regular basis with the use of laptop computers or tablets. These formal language training classes will help you with daily life in Canada. Course material is chosen depending on the class level. You will increase your vocabulary and have the opportunity to participate in conversations, read a variety of non-fiction texts, and write information and messages for home, school, and work.
Schedule
September 7, 2023 to June 21, 2024
Monday to Friday from 9:00 am to 2:05 pm
Learners collect assessments to show their achievement in developing skills in speaking, listening, reading, and writing. Learners will have an interview with their teacher and receive a progress report at the end of each session.
Assessment and Registration
A language assessment is required. Email us at adultesl@hwdsb.on.ca for more information on booking your assessment appointment and to register.
Eligibility and Fees
Learners must be 18 years of age of older
No registration fees for permanent residents, refugees, and naturalized Canadian citizens
Fees for Visitors to Canada. The visitor program is currently suspended
Childcare and bus tickets are available to permanent residents and refugees (not claimants) through Government of Canada funding for some classes.
Resources
Classes are based on the Canadian Language Benchmarks (CLB). The CLBs are the standards used in Canada in government-funded language learning and teaching. The Benchmarks describe what a person who is learning English can do in different situations at home, at school and at work. For more information, please see the Canadian Language Benchmarks Can Do Statements. Our courses use Portfolio-Based Language Assessment and language instruction is learner-centered and task-based. Language topics will be chosen in collaboration with other learners and the teacher to help meet individual needs for life in Canada.
Updated on Tuesday, July 25, 2023.