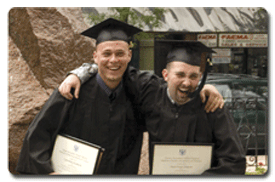 PLAR (Prior Learning Assessment and Recognition) is the formal evaluation and credit granting process whereby mature students may obtain credits for prior learning. This includes knowledge and skills that mature students have acquired in both formal and informal ways, outside of secondary school.
Who is Eligible for Mature PLAR Credits?
A mature student is a student who is:
At least 18 years old on or before December 31 of the school year
Is NOT enrolled in a Secondary School credit program for the purpose of obtaining an OSSD
Has been OUT of school for a period of at least one year before returning as an adult
This process of credit granting is for students who were enrolled in the Ontario secondary school system and were placed in Grade 9 in 1999-2000 or later. There is another maturity credit granting system for students who started Grade 9 before 1999.
NOTES:  If you're an out of country student, that you will need a CLB 6 in both Reading and Writing in order to get assessed.  If you already have 26 or more credits from your time in Ontario Secondary School, you may not be eligible for PLAR as you must earn your final four credits.
How to Get PLAR Process Started? BOOK ONLINE APPOINTMENT
If you are uncertain if you are a candidate for Mature PLAR credits, you can call the Welcome Centre at 905-521-2554 or Hill Park  at 905-561-2190 for clarification.
Step One: (only applies to students not currently taking a course with Continuing Education) Register with Continuing Education, by clicking the following link: https://bit.ly/RegisterHWDSB
You will be required to provide proof of Canadian Citizenship or Residency (Passport, Birth Certificate, PR Card, Refugee Documents) and proof of Address (piece of government mail, bank statement or utility bill) during this brief on-line meeting
Step Two: Make an on-line meeting with our Guidance Counsellor to discuss your eligibility for PLAR and your pathway plans, by clicking the following link: https://bit.ly/GuidanceMeetingConEdHWDSB
Step Three: Once you've discussed your pathway and PLAR eligibility with our Counsellor you will be provided a link to use to book your Credit Assessment.
Step Four: Prepare for credit assessment meeting by clicking right to download the fillable form >>> PLAR Package. Open the downloaded MSWord Grade 11/12 PLAR package form and complete all the fields to the best or your ability.  Once you have included as much information as possible, save this document and it will be emailed to the assessor prior to your assessment meeting, the information in the form will be used as a basis for maturity credits granted.
Step Five:  Prepare for credit assessment by having the following items ready for the online meeting.
High School Transcript ( click here to request an HWDSB Secondary School transcript )
Supporting Documents for 11/12 PLAR Application Package
Note: The Credit Assessment process and Academic Upgrading program are offered free of charge.
What to Expect During the Assessment Process
Students needing a credit assessment generally fall into 2 categories; students with less than 16 credits and students with more than 16 credits. The process is slightly different for both:
What to expect if I have less than 16 credit (or have no Ontario transcript)?
Students with no transcript or missing all, or part of, the first two years of secondary school will be required to complete an individual assessment in some or all of Grade 9 and 10 English, Mathematics, Science, and Canadian Geography/History subjects.
If needed, students can get support to prepare for Grade 9/10 PLAR assessments through our Academic Upgrading Program at the Hill Park Learning Centre or the City Learning Centre.
What to expect if I have more than 16 credits?
Students with more than 16 credits are required to prepare the 11/12 PLAR Package document (see link above) and maturity credits will be granted based on their life experience to date, for a maximum of 26 credits.
NOTE: Students will only be granted up to 26 credits and always have to earn their last 4 secondary school credits.
Updated on Friday, November 13, 2020.