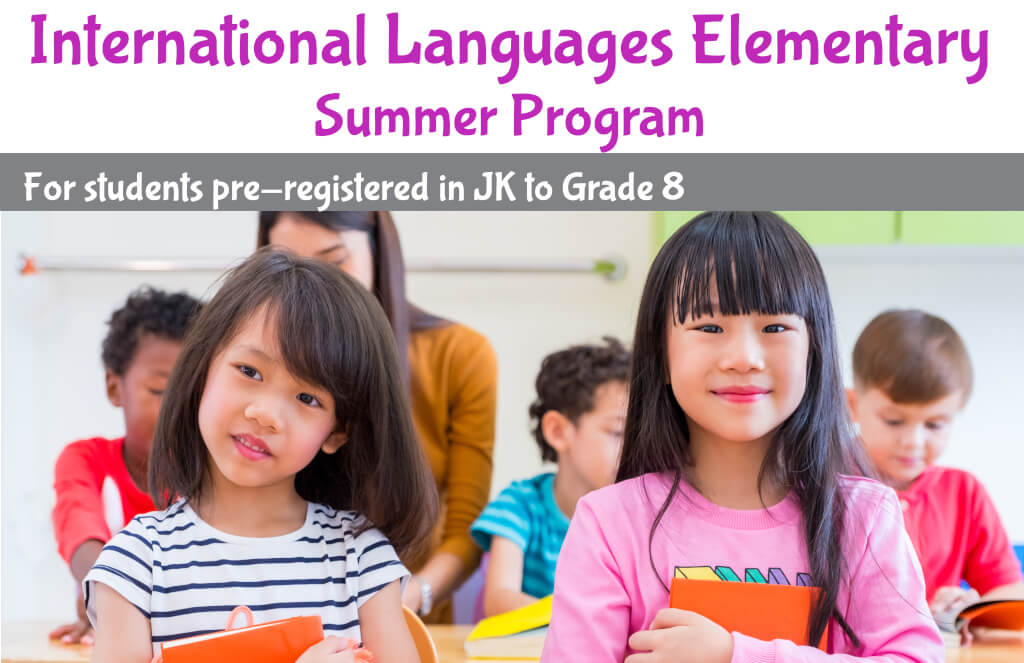 Summer International Language Elementary Program (NON-CREDIT)
The Summer International and Indigenous Language Elementary (IILE) program offers children an opportunity to learn and/or maintain a language other than French or English and to develop an appreciation and sensitivity to the cultural diversity within Canada.
Program Information
Dates: July 2-26, 2019
Locations, Languages and Times:
| Location | Area | Language | Times |
| --- | --- | --- | --- |
| Details coming in April 2019 | | | |
Register for the Program
If you're NEW to the Program: Registration for the upcoming Summer 2019 program is available in advance by contacting the Hill Park Learning Centre by phone at 905-561-2190 or by e-mail at ce@hwdsb.on.ca
If your children participate in the September to June IILE Program: you can speak to your Instructor or Site Supervisor for assistance with your child's summer registration.
AFTER JULY 4th – Please bring a completed Registration form, Attestation form (second page of the registration form), a report card for your child (if possible) and ID showing proof of status in Canada for each child you're registering in the program, as well as a piece of mail showing your family's address.  Please go to the location you'd like your child(ren) to attend during the program time/day of week to register.  Students are eligible to register for a class at any time throughout the program year.
Fees and exceptions
Students are eligible to attend one 2.5 hour class in any one language per day in the summer, however they can take a separate or dual language program in a second language without paying any additional fees for program instruction, (ex. a student can attend an Arabic class in the morning and a Kurdish class later in the day for just the $5 per student per course consumable fee).
If you wish to enrol your child in more than one class in the same language, a fee of $120 per student per additional course is applicable (ex. a student can attend one Arabic class on Monday for the consumable fee of $10 and a second Arabic class on Saturday for a program fee of $120 for the second class).  Fees are payable at the Continuing Education Main Office located at the Hill Park Learning Centre, 465 East 16th Street, Hamilton.
Contact
For more information, please contact the Continuing Education Main Office by calling 905-561-2190 or ce@hwdsb.on.ca.
Updated on Wednesday, February 06, 2019.