Saltfleet Commencement Class of 2023
*****
2023 Commencement Celebration
The 2023 Saltfleet Commencement Celebration will be held at 4:00 PM on Monday June 5th at Mohawk College, McIntyre Centre of the Performing Arts (Fennell Campus).
For students choosing to participate in the Commencement Ceremony can purchase a Grad Grown. (details below)
Graduation Checklist Found here:  2023 Grad Checklist
Details and Grad Gown Package (Grad Gowns, invite, tickets, etc) will be distributed at an assembly on May 17th in the cafetorium during period 2. Please ensure you attend to gather important information regarding the commencement ceremony, arrival time, parking, etc.
We look forward to celebrating our Class of 2023!
Please check back here starting in July for information about when you can pick-up your Graduation Diploma and transcript from the school.
*****
2023 Graduation Gowns Available for Purchase:
Attention all grade 12's: School Cash online is now open to purchase Gowns.
For students choosing to participate in  Commencement Celebrations, gowns can be purchased up until Friday March 24th 2023 on Cash online. ($25)    SchoolCashOnline.com: Welcome
Students may be able to purchase a grad gown after the deadline, pending availability;   late fee of $35.
***
2023 Graduation Book:
To the class of 2023, please access this google form to submit photos for this year's Gradbook.  The deadline is April 10th, 2023.  Google form – submit photo
To order a GradBook:
Go to Jostens.com
Shop your school, enter Saltfleet – it will bring up our school
click Saltfleet
order a yearbook
***
Senior Sunset:
Guess what grads? It's time to get excited for Senior Sunset! On Thursday, June 8 from 5:15-9:00pm, we will be hosting a seniors night for the graduating class of 2023. It will be a night full of games, food, and fun as you enjoy your last moments together in the same place at Saltfleet.
We will start with a co-ed volleyball tournament in the big gym (so start thinking of your teams), dodgeball and other games in the small gym, while the atrium will host twister! Then, we will come back together in the main gym to break off into groups of 8-10 and do a school wide scavenger hunt! Once the hunt concludes, everyone will go outside in their scavenger hunt teams to play three rounds of relay games and crown the winning team! After the games, we will have a barbecue picnic on the football field and open our letters from grade 9 orientation while we watch the sunset.
Stay tuned for more information on the official sign up list for teams, what you need to wear, registration, and more, on our student parliament instagram @sdhs_stuparl
***
Valedictorian Submissions
Instructions, details and Deadline (April 14th)  found here:
Valedictorian Nomination Video Checklist April 2023
***
2023 Graduation Prom/Dinner Dance
The Class of 2023 Graduation Prom/Dinner Dance will be offered this year. Tickets are available on cash online.  SchoolCashOnline.com: Welcome.
Deadline to purchase is May 5th, 2023.
Date:  
Friday May 26, 2023
Time:  
5:30 pm to 10:00 pm 
Cost: $75
Location: 
Liuna Station,
 360 James St. N. Hamilton 
Questions regarding Prom and guest forms can be directed to:
Ms. L. Dragozet (ldragoze@hwdsb.on.ca)
Ms. A. Miller (amiller@hwdsb.on.ca)
Ms. E. Virga (evirga@hwdsb.on.ca)
Additional Information:
Students from the Class of 2023 can purchase a maximum of 2 tickets. A guest form must be completed and approved by administration for the guest to attend this event. Guest forms are available outside room 1030.
Table seating arrangements can be made using the seating form. Tables seat 10 people. Forms are available and returned to room 1030. Students who do not complete a seating arrangement will select any available seats on the night of the event.
Tickets must be picked up in the atrium on Monday, May 8th or Tuesday, May 9th during period 4. Dietary requests can be made when tickets are picked up.
ALL forms are due Wednesday, May 10th, 2023.
A maximum of 250 tickets are available. Tickets are non-transferrable and non-refundable.
***
Prom Project link to reserve below.  It is scheduled for April 29; students must sign up for a time slot.
***
2023 Graduation Photos can be booked!
Students are to go to bookmygrad.ca and enter the school code SDH
Grad Photos begin on November 7th in the school library.
***
Order your Graduation Hoodie!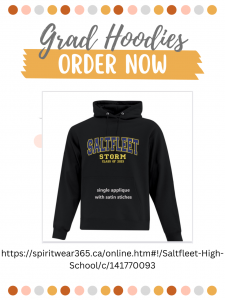 *****************************************************************************************************************************************************************************
ARCHIVED INFORMATION: (2022)
Saltfleet Graduates of 2022 Information: (Archived)
Saltfleet June 2022 graduates:  Please note that the 2021-22 Diplomas and Transcripts are available for pick up!
Students may pick up Diplomas starting August 15, 2022, anytime between the hours of 8 am – 1 pm at the Saltfleet Guidance office.  If a graduate is 18 or older, and they cannot pick up themselves, they may write a note giving permission for a designate to act on their behalf.
I, (graduate's full name) _________________________ am assigning the following designate (full name) _________________________ to pick up my diploma. 
 *Designate must display identification at pick up.
This would also be an excellent opportunity to return any school items to the main office, such as an iPad or textbook if you are not attending Saltfleet in September. Please bag and label.
Updated on Thursday, May 18, 2023.