Saltfleet District High School
Saltfleet District High School, located in Upper Stoney Creek, services a community with both urban and rural roots – our catchment area stretches from the Niagara and Haldimand County borders to the escarpment.   Saltfleet has a student population of 1225 that is increasing annually as residential homes continue to be built in the area.  Opened in 1996 at its current site, Saltfleet is the most recently built Secondary School in the Hamilton-Wentworth DSB.  Saltfleet is one of two secondary schools in Canada with a fully operational Observatory! The original Saltfleet opened in 1927 on Grays Road and was in operation until the new school opened.
Known as the Storm, Saltfleet has a rich tradition of academics, athletics, and the arts.   High expectations in the classroom and in co curricular activities allow students to recognize and achieve to their full potential.  Blessed with a dedicated staff, Saltfleet students have the opportunity to participate in a broad array of field trips, sports, and clubs.
The school motto "Ad Altiora Nitamur" (We Strive to the Highest) is evident in students and staff at Saltfeet every day!
Secondary education had its beginnings in this community with the advent of the District Grammar School of which Hamilton first had one by 1836. Students in the earlier days from the Stoney Creek and Saltfleet communities attended either Grimsby or Hamilton until such time as other arrangements could be made. There was a fifth class in the old Stoney Creek School taught by the principal of the school until the year 1926. Likewise, there was a fifth class in the Winona School, established 1914 and terminated in 1926. It is reasonable to understand that the east end students would go to Winona and the west end students to Stoney Creek.
Plans were made just prior to 1927 to establish a high school in the district. There was considerable difficulty selecting a site. There were four sites under consideration: (1) on Lake Avenue, (2) on Gray Road, (3) on Highway 8 near the Monument, and (4) on King Street. Upon purchase it was decided to locate on Gray Road on the present site 'where just over 4 acres were purchased from Miss A. M. Nash for $3,500. This land was originally owned in 1790 by Joseph Petry, according to a map reference prepared by Augustus Jones, Surveyor.
Warren and MacDonad were the architects for the first high school building on this site. Construction began on March 10, 1927. It is interesting to note that an article written in February, 1971, by Miss Ann Williams lists wages per hour as follows: Construction 60c, Farmers 40c, Labourers 30c. Bricks cost $30.40 per 1000 delivered to the site. Other facilities required were in the digging of a well. After digging down some 14 feet the well yielded 20 barrels of salty water per day. Further digging was useless so another well was drilled.

In the Beginning…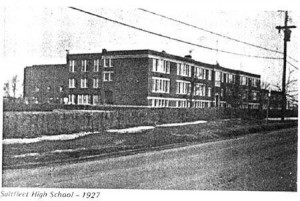 When Saltfleet High School opened its doors in 1927, the school area included Stoney Creek and all of Saltfleet and Binbrook Townships. This was several years before Wills Motors started Ontario's first school business line, so several students had to find their own transportation. Red Hill, Bartonville and Winona students used the H.G. & B. radial trolley until it ceased operation in the early thirties. Others walked or sued bicycles and a few came from Vinemount via the T.H. & B. train. Teachers who lived in the village walked too – I remember only three of the 1929 staff had cars. Students from Hillcrest School, Normanhurst and Parkdale areas had to walk four miles or so. Mr. Hocking, the first principal, was stern, aloof and fair in his dealing with pupils. His invitation to "step into my office" struck fear in the more timid hearts. In those days, the course of student was much less complicated.  In the first and second forms, History, Geography, English, Literature, Composition, Grammar, Algebra, Geometry, Latin, and French were taught. In third, fourth and fifth forms, some of the subjects were continued along with Chemistry, Physics, etc. Special Commercial, office and business skills were also offered. Agriculture was taught for four years – as the lifeblood of most of Saltfleet Township was orchards and graperies while farming and fruit growing was the norm above the escarpment.  The school crest was designed, a motto chose, school song composed, school colours selected and cheers learned.
This new six-room school opened in the fall of 1927 with 180 students in attendance. W. J. Hocking was the first principal who insisted that boys and girls use separate entrances to the school and not to mingle. The school quickly became the focal point for activities for the neighbourhood. During the time of Vem Belyea, principal 1954-1960, there was the operetta, the choir, interest in agriculture and the School Fair Days.
Ricka Chicka Ree, Ricka Chick a Ree, Best High School in this countreeeee……
Mary Gadye – Student 1929-1934
School Song:
You sing of your school and we'll sing of ours,
Of dear old Saltfleet and its happy hours.
Someday we'll leave her, true to her we'll be,
Here's our pledge to Saltfleet –
Faith and Loyalty
Otto Clark – 1946
Ad Altiora Nitamur
In 1947, lockers replaced the cloakrooms. The school has had six additions which have increased its size from 6 original rooms to 42. In 1958, the front part of the school at the centre became offices. This closed off the front door.
Saltfleet High School supplied the secondary education until Winona School was built in 1963. During the years the school had hockey teams which skated in front of the school; sleigh rides down the big hill to the south before houses were built; and rambles through the graperies which were adjacent to the school. The care­takers were always helpful to the students and staff. We remember Al Davey, Harvey Alton and many others. The Student Council Conference in 1957 was a decided success.
 Saltfleet High School Board distinguished itself in a number of overseas tours, in local gatherings, and in parades.  Saltfleet continues to form a link in education to workforce of graduates from elementary schools, through secondary education, apprenticeship and trades, to post sec­ondary in community colleges, universities, business, and professional education.
Saltfleet District High School 90-Year Fund Raising History Book
Saltfleet District High School 90-Year Fund Raising History Book
The Saltfleet Retired Teachers' Fraternity (SRTF) has produced a 300-page, comprehensive 90-year history of SDHS from 1927-2017.  This Book has already raised $2,500 for 'Leadership Bursaries' for the school, and all profits will continue to support the school.
The Book includes every aspect of the school's social history … including sports, drama, music, various clubs and groups; special events, tours, cadets and soldier profiles, student newspapers and productions; as well as changes in education and traditions throughout the decades.  Also, many photos augment the  articles.
It was completed as a tribute not only to the school's 90th anniversary, but also as a project for the Stoney Creek Historical Society to help commemorate Canada's 150th birthday.
The Book can be purchased at 'Comic 1 Books' at 67 King St. East in Stoney Creek (905-664-3777), located in the small plaza next to McDougall's Garage.  The price is $20.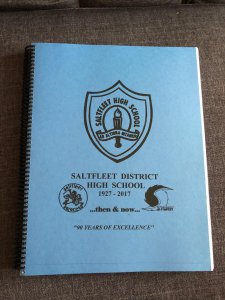 Updated on Tuesday, December 13, 2022.