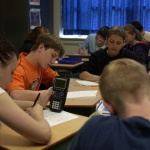 Literacy & Numeracy Programs for students in Grades 7 to 10
Continuing Education provides a wide variety of programs for students aimed at promoting numeracy and literacy development and improvement.  These programs are available at NO COST to students in grades 7 to 10.  Our Literacy and Numeracy programs are offered during the school year as well as in July and August.  All programs are instructed by a certified teacher.
How to Get Started
All grade 7 to 10 students are eligible to participate in our After School and Summer Literacy and Numeracy programs.
Individual schools may work in consultation with their school community to offer an after-school program in their school.  The principal will work with Continuing Education, teachers and parents to identify the most appropriate program and students who would benefit from additional support.  If you are a parent or a teacher who would be interested in having your child participate in a program at your school or running a program at your school, please contact your Principal to express your interest.
After School student improvement programs are dependent upon securing sufficient student enrolment in classes.
Contact
Barb Jepson, Remediation Programs Consultant
bjepson@hwdsb.on.ca
Continuing Education,
Hill Park Learning Centre
Hamilton, Ontario  L9A 4K6
TEL: 905-561-2190
FAX: 905-561-2582
Updated on Friday, October 12, 2018.