Note: The visitor program is not accepting registrations for the 2022-23 school year, September 8, 2022 to July 28, 2023
Welcome to Canada!
We are glad you are here to improve your English language skills!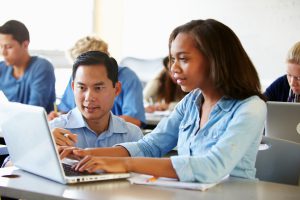 Program Description
Our language courses offer the opportunity to improve your English skills in speaking, listening, reading, and writing while you are visiting Canada. Receive instruction from our qualified and professional English language teachers. Make new friends from all over the world while learning in a friendly environment.
Schedule
English Every Day and Summer Program
Monday-Friday 9:00 a.m. – 2:05 p.m. with lunch break from 11:45 a.m. to 12:15 p.m.
English at Night Program
Monday/Wednesday or Tuesday/Thursday 6:00 pm to 8:30 pm
---
Assessment and Registration
STEP 1 – Call one of our locations or email adultesl@hwdsb.on.ca for more information.
STEP 2 – Schedule and complete a language assessment.
STEP 3– Complete a registration form with your visa or permit information and pay program fees.
STEP 4 – Start classes and improve your English language skills.
Assessment Information
All learners must take the Canadian Language Benchmark Placement Test (CLBPT)
The results will show the Canadian Language Benchmarks (CLB) levels for listening, speaking, reading and writing
You will be placed in a class according to your CLBPT results
The CLBPT is available by appointment only and is currently delivered online
---
Eligibility and Fees
Learners
Must be 18 years of age or older
Language Assessment
English Every Day and Summer Program
Cost: $500 per month (four weeks)
Nominal materials fee each term $15
English at Night Program
Cost: $125 per month (four weeks) with 2 nights each week
Fees must be paid in advance.  Fees are not refundable. Payment is made online.
---
Resources
Classes are based on the Canadian Language Benchmarks (CLB). The CLBs are the standards used in Canada in government-funded language learning and teaching. The Benchmarks describe what a person who is learning English can do in different situations at home, at school and at work. For more information, please see the Canadian Language Benchmarks Can Do Statements. Our courses use Portfolio-Based Language Assessment and language instruction is learner-centered and task-based. Language topics will be chosen in collaboration with other learners and the teacher to help meet individual needs for life in Canada.
---
Updated on Tuesday, August 02, 2022.