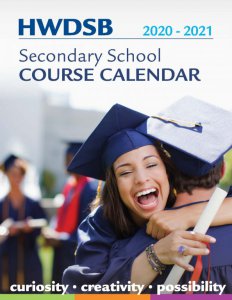 Welcome to the online HWDSB Secondary Course Calendar. The selection of courses and programs in secondary school depends on a partnership between students, parents, the school and the community.
Secondary School Course Calendar & Course Descriptions
Note for students–not all courses in the Course Calendar are offered at Sir Winston Churchill.  Some courses on the SWC option sheet will not run due to insufficient enrollment; please see your guidance counselor for questions.
---
How to Register
During the school year, if you're new to the area and your child was enrolled in secondary school, please register with us  as soon as possible by filling out the registration package on the board website – How To Register
Not Sure of Your Catchment?


* If you are unsure of your catchment status, please visit the HWDSB website and use the Find a School tool to determine which school you will attend.
You will need to type in your address, select your grade level, select your program (French Immersion or Regular), then click "Search".
If you are Out-of-Catchment (OOC) and still wish to apply you will need to fill out an Out-of-Catchment form. More information regarding the OOC process, can be found here: Out of Catchment Info
NOTE: Applications may be submitted after the deadline, but will not be reviewed until September. Applications after the deadline will only be considered in extreme circumstances.
---
If you're arriving during the summer, please contact the school in your area to find out registration dates and make an appointment with a principal or vice-principal.
Note: If the student is not a Canadian citizen or Permanent Resident, the status of the Parent or Guardian will determine the ability to attend school. Under new Immigration rules, those with a Study Permit, Work Permit, refugee claimant, or landed immigrant may attend a school with proper documentation. Fees may be charged in accordance with Education Act regulations. Please contact Supervisor of Admissions and International Education Programs, at 905-527-5092 for further information.
The school will require one of the following:
Proof of Birth (Birth Certificate)
Canadian Passport
Canadian Citizenship Card
New Permanent Resident Card
In addition, you will be asked to provide the following:
Student and parent/guardian's full mailing address (example: as shown on a hydro bill or lease agreement)
Parent/guardian's place of employment and telephone number
Previous school record and school contact information
Emergency contact person and telephone number
Immunization record
Doctor's name, address and telephone number
Custody information (if applicable)
Updated on Wednesday, September 27, 2023.