Welcome to the Westdale Music page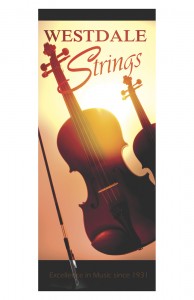 The Music Program at Westdale is an exciting way to continue your musical development. Our Music program features both band(instrumental) and the unique program of choice,strings(bowed strings). Our department offers all grades of music instruction from 9-12. The department has a diverse array of extra curricular ensembles for any musical taste, (Jr band, Sr band, Jr Orchestra, Sr Symphonic Orchestra, Chamber Orchestra, Jr Jazz band, Sr jazz band and choir.
All students participate in the study of music through performance, creation and analysis of exciting music from all classical to modern musicy.
The program includes opportunities to perform at various concerts, festivals and regular touring to destinations like (New-York, Chicago, Atlanta etc). Regular guest artists visit the school to enhance the students progress. This well-rounded and exciting program nurtures the musical talents of all students involved
Updated on Monday, June 11, 2018.