Upon opening in 1931, Westdale was deemed the largest composite school in the British Empire, consisting of 11.7 acres of building, grounds and athletic fields. The original building was referred to as "Westdale Composite School", and "Westdale Tripartite School", reflecting its collegiate, technical and commercial components. An initial enrollment of 1,301 reached 2,264 in 1965 as a record maximum. Presently, we hold 1,700 students.
Designed by architects Prack and Prack, the "school gothic" architectural style claimed arched doorways and pseudo-buttresses. Constructed at an initial cost of $1,306,521.00(including land) by J.M. Piggott Construction Company, the building has undergone three major renovations in 1959, 1974/75 and just recently new doors, lockers and windows have been added.
The decades since Westdale first opened have coincided with historical and social changes. The Depression era meant incomes were low and material goods at a minimum.
During the 1940's, Westdale operated as a school from 9a.m. to 4p.m. and as a training facility for ground and air troops from 5p.m. until dawn. Of the 800 students who served in the war, only 650 returned. The names of those who gave their lives for Canada and its allies are engraved on the cenotaph at the front of the school.
The 1950's boomed with events that made history. Among graduates at the mid-point of the century were several well-known Canadian figures, including John Munro, remembered as a federal cabinet minister, and Russ Jackson, a CFL quarterback.
The 1960's brought ideological changes marked by the Vietnam War and events like Woodstock. The school would reflect these changing values and ideals. Canada had its own flag by the end of this decade. The 1970's were an era of individualism with graduates who made significant achievement in entertainment, athletics and academics. The school motto, "Each of us will find our own way to the stars", held true for many students, including Martin Short. The most major renovation of the building took place during this decade.
The 1980's have seen Westdale stand out as a school of excellence and a wealth of graduates entering competitive university and college programs have made it a school that is recognised province wide. This has continued into the 1990's. School teams have earned OFSSA championships. Academic excellence has brought individual and school rewards as students and staff continue to achieve under profound changes to the educational system, financial restraints and competition, to ensure prosperity for the next generation.
Westdale is an exciting, dynamic school community – a community comprised of individuals working for the betterment of everyone and the enhancement of the quality of life in our school. Working together, we can achieve the goals set before us and in the process discover the extraordinary power and energy of friendship and creativity. At Westdale we all search for the stars.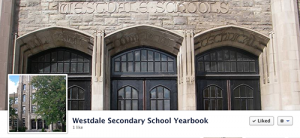 Visit our Westdale Yearbook Facebook page to see more photos from past yearbooks. Share your memories with us on this page.
Updated on Monday, June 11, 2018.