ANCASTER ROYALS CAPTURE SENIOR GIRLS VOLLEYBALL CHAMPIONSHIP
Ancaster Royals won their second consecutive senior girls volleyball championship Wednesday night taking the Hamilton Wentworth District School Board title with a 3-1 set victory over Orchard Park Patriots.
Ancaster will now face Eden Secondary School from St. Catharine's next week in the  Southern Ontario Secondary School Association (SOSSA). The winner will advance to Ontario Federation of School Athletic associations (OFSAA)
"We have a close family," said Ancaster head coach Michael Schurer. "When they are having fun and smiling we are usually winning games."
Maya McNabney led the assault for the Royals with spikes from all over the court, and bullet serves. McNabney has earned a full scholarship to Pepperdine University in Malibu, California later this year.
"I committed back in 2020 to play beach volleyball," said McNabney. "I am  excited to work head coach Marico Sicoli."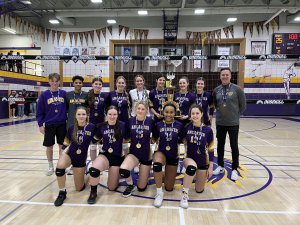 The Royals won the first set 25-19, but Orchard Park battled back to win the second set 25-23. Ancaster took the final two sets 25-9 and 25-18.
Orchard Park head coach Sandra Gittings was proud of her team's performance and is excited about next year.
"We will have six or seven players coming back next year, so we should have another strong team."
By: Dave Rashford
February 16, 2023
Updated on Thursday, February 16, 2023.