Glendale students join Hamilton Philharmonic Orchestra for Mendelssohn's A Midsummer Night's Dream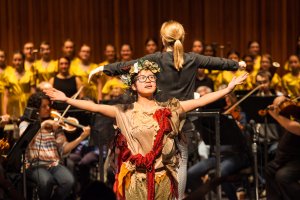 On Saturday, April 8, 2017, a hard-working team of Glendale arts students performed onstage at First Ontario Concert Hall (formerly Hamilton Place) with the Hamilton Philharmonic Orchestra, and guest artists the Hamilton Children's Choir.
For two months, students rehearsed two to three times a week on their lunch hour, an abridged version of Shakespeare's play, set to music by Felix Mendelssohn. Performances included spoken word, mime, and dance. Conductor Gemma New and the orchestra welcomed our students in this first-ever onstage collaboration with an HWDSB school in one of the HPO's regular season concerts.
The students performed to a sold-out crowd and received a standing ovation. Their production was moving, funny, and visually beautiful. The exquisite accompaniment of the HPO, and the skillful vocals of the Hamilton Children's Choir, lifted the play to a whole new level.
Congratulations to the cast and crew, to Luke Bramer, Paul Borsc, and Emily Dumitru, who led the production, and to Pamela Blackwood-Marques, who created the beautiful costumes. Photos of the dress rehearsal were taken by Glendale art teacher Joshua Kraemer. You all represented the HWDSB with excellence and dedication!
Updated on Thursday, April 13, 2017.