HWDSB Students at Vimy for 100th anniversary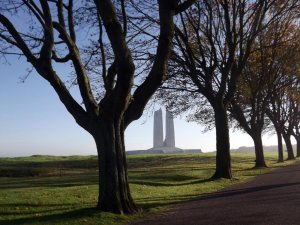 Dozens of HWDSB students are about to visit Europe for an experience they will likely remember forever – the 100th anniversary of the Battle of Vimy Ridge.
About 130 students in grades 10 to 12 Canadian and World Studies courses will represent Glendale, Orchard Park, Sherwood, Sir Allan MacNab, Sir Winston Churchill and Westdale secondary schools.
They will join veterans and dignitaries April 9 for commemorative events at the Canadian National Vimy Memorial in France. The event will include the opening of a new Visitor Education Centre.
"This is more than a trip to Europe," said Jamie Nunn, Superintendent of Student Achievement, who oversees student engagement at HWDSB. "Students will witness and record history as we reflect on war and peace while marking a century since the Battle of Vimy Ridge, which was a key moment in Canadian nationhood."
Most of the students will travel April 6-15, with an itinerary that includes Amsterdam's Anne Frank House, the Vimy commemorations, the Beaumont-Hamel Newfoundland Memorial, Juno Beach and Paris to see the Louvre, Eiffel Tower and Versailles.
In 1914, after Germany attacked Belgium and France, Britain declared war and Canadians soon began to serve. More than 600,000 fought overseas, at a time when Canada's population was just eight million.
When Canadians captured Vimy Ridge in April 1917, with 10,000 killed or wounded, many saw it as the gruelling birth of a nation.
In 1919, Canada joined the League of Nations, rather than being represented by Britain. In 1931, the Statute of Westminster affirmed Canada's independence.
During the trip, HWDSB students will post original photos, video and writing on the Students Explore Vimy Ridge blog at vimy100hwdsb.commons.hwdsb.on.ca.
-30-
About HWDSB:
Hamilton-Wentworth District School Board has a vision in which Curiosity, Creativity and Possibility empower students to learn and grow to their full potential in a diverse world. Learn more at www.hwdsb.on.ca.
Media Contact:
Jackie Penman
Corporate Communications Manager
T: 905.527.5092 x2301
C: 905.317.0086
jpenman@hwdsb.on.ca
Updated on Monday, April 03, 2017.