HWDSB splits boys volleyball all-star games; earn junior title
ANCASTER, Ont. (December 19, 2017) – The top boy's high school volleyball players from across Hamilton rolled into Ancaster High School to battle for bragging rights on Tuesday night in the annual all-star game between the Hamilton Public and Catholic school boards.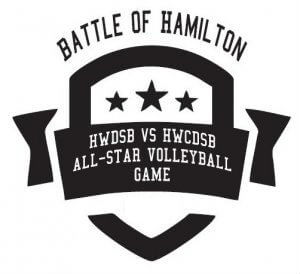 The teams split the two games with the Public side claiming the junior match while the Catholic board countered by winning the senior game.
In the junior event, the Public board grabbed a 3-1 victory with Vaunn Smith of Hamilton District Christian earning player of the game honours. Set scores were 26-15, 25-17, 19-25 and a tightly contested fourth set ending up 25-21 to hand the public side a victory. Sasha Thailyh of Bishop Ryan earned the player of the game nod for Team HWCDSB.
Lining up in the junior game for Team HWDSB were: Ancaster HS: Oliver Sant; Glendale SS : Nathan Steeves, Hetem Hetaj; Guido De Bres CHS: Mitchell Jans; Hamilton DCH: Bridgely Vandermark, Vaunn Smith; Saltfleet DHS: Thomas Matsell, Nathan Toltl; Sherwood SS: Quinn Horton, Ryan Moggach; Westdale SS: Jan Dick, Wyatt Lightfoot; Westmount SS: Hunter Gale, Zack Hammond, Bayne Timofejew.
In the senior match, the Catholic board landed on top in a back and forth five-set thriller. Team HWDSB surged ahead with victories in the opening two sets (25-19, 25-21) before Team HWCDSB rebounded with a 25-22 and 25-20 victories. In the final set, the Catholic board claimed the match with a 15-7 fifth set victory.
Hamilton District Christian's Sam Copper was named top player from the public board league, while Lhex Rabit of St. Jean de Brebeuf captured the same honour for the Catholic board league.
Representing Team HWDSB at the senior level were: Ancaster HS: Liam Kavoukis, Sabur Wahidi, Jalen Johnson-Schmidt; Dundas Valley SS; Louis DiSalvo, Ethan Goodale; Guido de Bres CHS: Edward Lof, Doren Togeretz; Hamilton District CH: James Billi, Sam Cooper; Waterdown DHS: Mitchell German; Westdale SS: Julian Rogers, Maurice el Helou; Westmount SS: Jake Vinken.
The public board now holds a 3-2 all-time advantage in senior all-star play while the public board has a 2-0 lead in junior play.
In the spring the two school boards will once again face off against each other in the HWDSB vs HWCDSB Girls Volleyball All-Star game; date and time TBA.
Stay Connected with HWDSB Athletics
For schedules, results and news visit: http://www.hwdsb.on.ca/athletics or follow us on Twitter @HWDSB_athletics
Updated on Wednesday, January 03, 2018.