Featured Athlete of the Week – David Sprague – Waterdown
There are few better student athletes than David Sprague.  He is a competitor, a leader, an outstanding student, and a model citizen.
David was the defensive MVP and on the field defensive captain of the senior football team this year.  As a middle linebacker, he lead the team in both tackles and interceptions.  David also played tight end in key situations and was the team punter.
David has played football in each of his years at Waterdown, and has also played tennis and pickleball.   This year, he won a bronze medal at OFSAA in the high school mixed doubles tennis competition.
Academically, David has achieved a sizzling 98% average in University level courses opening up opportunities in almost any career path.  Beyond athletics and academics, David sits on the DECA executive and is a student leader for GLOW (Great Leaders of Waterdown) and will help coach Waterdown's junior football team.  David also volunteers for Habitat for Humanity and will surpass 125 volunteer hours this year.
What sets David apart from his peers are his maturity and leadership skills.  Here is an excerpt of an email to Waterdown's principal about David,  from a Hamilton football referee which highlights these attributes –
Ms Bielak
 I would like to make you aware of a situation that occurred today where David Spragg, one of the captains of the football team, showed why he is one of the captains.
 I was the Referee of today's Waterdown and Sherwood football game.  The first half was a bit chippy and included an ejection of a Waterdown player for deliberately stepping on a Sherwood player.    
 Prior to the start of the second half we always meet with the captains.  David asked to speak.  Without repeating word for word what he said, he apologized to the Sherwood captains for his teammates behaviour, calling it unacceptable.  He also said that he had spoken to the rest of the team and that they were there to play football the correct way and that they were going to do that for the rest of the game.  He was good to his word.
 I spoke with the coach about it after the game and he had no idea that David had taken this initiative, however he wasn't surprised.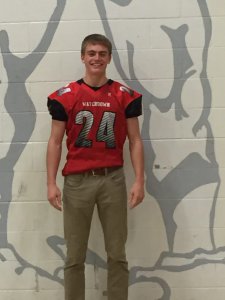 I have been involved in officiating amateur football and basketball at all levels for 32 years.  I can honestly say I have never had something like that happen at any game I've been involved with.  This one act showed a level of leadership and maturity that was more than any high school athlete has shown in any game I have been involved with.  His parents should be proud of the young man that they are raising and he will do well in his future endeavours.
 Thank you
 Kevin Mickleboro
Updated on Tuesday, November 07, 2017.