Featured Athlete of the Week – Nora Raymond – Ancaster
Nora Raymond is the definition of a well rounded student-athlete. During her last four years at Ancaster High School, Nora has been a valuable asset on and off the court. She been a member of the basketball, volleyball, track and field and rugby teams and is excited to add the waterpolo team into the mix in her final year. Nora also represented Ancaster as a member of the Girls All Star basketball team. 
 On top of her athletic commitments Nora is an executive member of Girls Athletic Association and was nominated by Ancaster staff to be one of the prestigious "Fab 4 Student Leaders" at Ancaster High's grade nine night. 
 Outside of school Nora has played rep basketball for the last six years and been a forward on Flamborough Fire for the last three. 
 Nora is hoping to study psychology next year and has received acceptance to Sir Wilfrid Laurier  and Waterloo University's psychology co-op programs but is still holding out for her first choice, Guelph University. Although Ancaster High is very sad to see Nora moving on, we wish her great success in her future endeavours.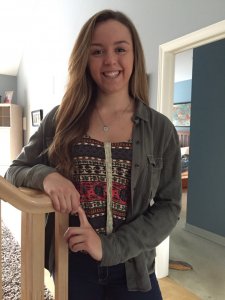 Updated on Thursday, February 02, 2017.