Sherwood offers a SHSM in Arts & Culture (Mr. Baker), Construction (Mr. Behrens), Health & Wellness (Mr. Teufel – fitness or Ms. Nicholls – healthcare), and Transportation (Mr. Malcew). Interested students should contact the specific SHSM lead teacher.
Learn more about other SHSM opportunities offered through HWDSB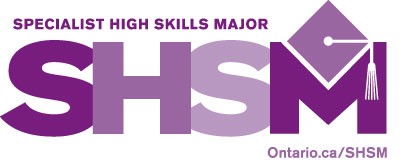 A Specialist High Skills Major (SHSM) is a ministry-approved specialized program that allows students to focus their learning on a specific economic sector while meeting the requirements needed to graduate from secondary school.
Through specialized programming, students are given the opportunity to reach ahead and experience relevant training and learning specific to their sector of study. Students will participate in a variety of experiential learning opportunities in the community and complete several sector-specific certifications.
The two-year program is for any interested student in grades 11 and 12. Students who successfully complete all requirements earn a special seal on their diploma and receive a record card outlining the specialized courses and certifications they have earned.
An SHSM assists students in their transition from secondary school into apprenticeship training, college, university or the workplace.
Updated on Monday, November 02, 2020.