Students planning to graduate in June are reminded to have their completed Community Involvement Hours Record Form signed and into Student Services by April 1st.
Grade 12 students without their Community Involvement Hours requirement completed and recorded will not be eligible to attend the Graduation Ceremony. Please email your completed Record of Community Involvement form to sherwood@hwdsb.on.ca
UPDATED FOR 2021-2022 ONLY:
For the 2021-22 school year, the ministry is revising the 40-hour community involvement graduation requirement so that students will not be adversely impacted by the ongoing challenges related to COVID-19. For students graduating in the 2021-22 school year, the community involvement graduation requirement will be reduced to a minimum of 20 hours of community involvement activities.  Students aged 14 years and older can count up to a maximum of 10 hours from paid employment towards their earned hours at the discretion of the principal. Students counting paid employment towards their graduation requirement will be required to complete a reflection exercise indicating how their work contributed to the service for others. Students not graduating this school year are still required to complete 40-hours before April 1 of their graduating year. If you are submitting household chores or paid employment hours, the dates of service must fall in the 2021-2022 school year.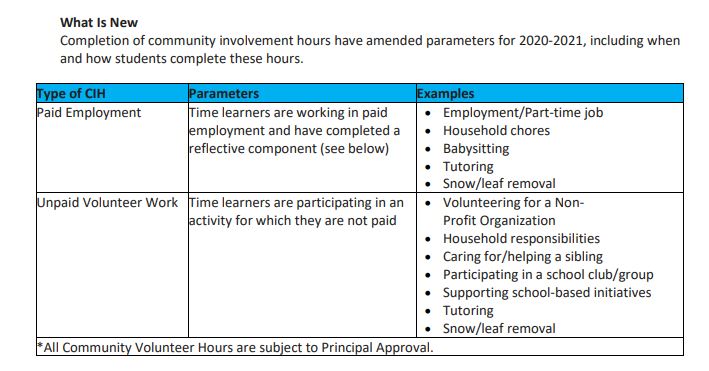 When using paid employment for volunteer hours (maximum of 10 hours), students must complete and submit the Community Involvement Hours Record Form and a Community Involvement Hours Critical Reflection.
The Ontario Ministry of Education requires that each student complete 40 hours of volunteer activities in the community in order to earn their Ontario Secondary School Diploma. Students can begin accumulating these hours as of July 1 after they finish grade 8.
Students must record their hours of community involvement on the Community Involvement Hours Record Form and have the volunteer supervisor sign for the hours completed. Hand in completed forms to the Student Services office.
HWDSB Community Involvement Information: Students and parents must ensure that the "volunteer activity" meets the requirements of Community Involvement as outlined in our Community Involvement Facts Sheet.
As soon as students complete all or part of the required 40 hours, they are encouraged to return the completed form to the Student Services office and have this recorded on their transcript. Students may also attach signed letters verifying their completion of volunteer activities to their Record of Community Involvement form. (The Ontario Student Transcript shows only that the community involvement is complete or not complete, it does not indicate the total number of hours above 40 a student completes.)
All students are encouraged to complete a

minimum

of 10 Community Involvement Hours each academic year. We recommend completing all 40 hours by the end of Grade 10.
Local Volunteer Opportunities
Finding Volunteer Opportunities
In order to assist our students in completing their requirement of 40 hours of volunteer community involvement, Student Services posts volunteer opportunities in the Student Services Office in our Volunteer Binder and on our Volunteer Bulletin Board in the hallway outside of the Student Services Office. Volunteer opportunities are also mentioned on morning announcements as they are brought forward to our Student Services Department. Students can also find volunteer opportunities by creating an account at gigmarketplace.com
Students can print off the community Involvement form below. The Record of Community Involvement form must have signatures of supervisor with contact information (students can attach letters verifying their involvement) and have a Parent or Guardian sign the form (even if they are 18 years old). Please email your completed Record of Community Involvement form to sherwood@hwdsb.on.ca.
Updated on Thursday, October 07, 2021.