Update on Sherwood Accommodation Consultation
January 25, 2022
Dear Sherwood families,
As we shared in December 2021, HWDSB was unsuccessful in its capital priorities submission to build a replacement school for Sherwood Secondary School.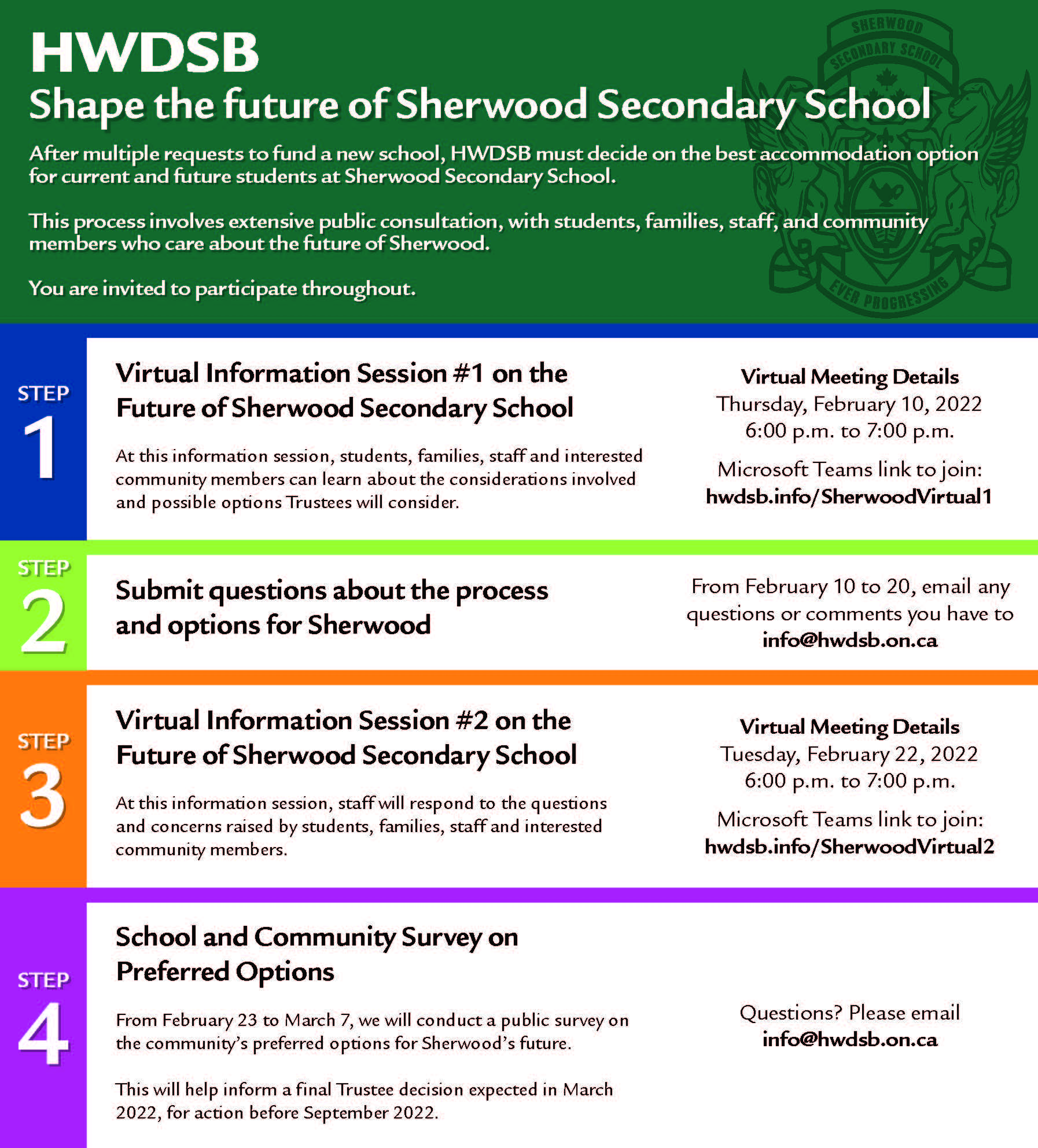 This means that HWDSB must decide on the best accommodation option for current and future students at Sherwood, which needs about $11.96 million in high and urgent renewal work.
We are inviting students, families, staff and community members to learn about this challenge and provide input before Trustees decide on the future of Sherwood. See the attached flyer for how to share your voice.
Step 1 is a Virtual Information Session (February 10, 2022) on the future of Sherwood, at which students, families, staff and community members can learn about the considerations involved and possible options Trustees will consider.
Step 2 is a period (February 10 to 20) during which we invite the community to submit questions about the process and options for Sherwood.
Step 3 is a Virtual Information Session (February 22) at which staff will respond to the questions and concerns raised by students, families, staff and interested community members.
Step 4 is a School and Community Survey (February 23 to March 7) on preferred options for Sherwood, which will help inform a final Trustee decision expect in March 2022, for action before September 2022.
The survey will ask for your input on three options:
Status quo
Keep Sherwood open but move Sherwood students temporarily to the school on the former Barton Secondary School site (75 Palmer Road) while renovations occur at Sherwood.
Close Sherwood and move students to Barton permanently after renovations are complete.
We want current and future generations of Sherwood students to have access to quality learning and teaching environments to maximize learning and program delivery. We believe that community input will aid our understanding and ability to make the best decision.
Please look for updates during this process at www.hwdsb.on.ca/sherwood
Sincerely,
Sue Dunlop
Associate Director, Learning Services
Links:
Letter – Sherwood Transition Process
Updated on Monday, January 24, 2022.