Winona News – Nov 13
Upcoming Dates
Nov 17 – Sr. Girls Volleyball

Nov 17- Educational Assistant Appreciation Day

Nov 18 – 

P

rogress Report Cards sent home

Nov 23 – System Grade One French Immersion Information Night

Nov 24 – School Council – 6:30 pm Library (MS Teams link will be provided for remote option)

Nov 25 – PA Day – School Closed for Students
Movie Night – SAVE THE DATE. School Council will be hosting a family movie night on Friday, December 2.  More details to come in the next few weeks.
Progress Reports – Families can expect a print copy of the progress reports to come home on Friday, November 18. Elementary Progress Report Cards are used to inform parents of the progress students are making toward the achievement of curriculum expectations for each subject. Parents and caregivers who wish to discuss their child/ren's progress should contact their child's educator.
Spirit Wear – We are excited to announce that we will be once again selling Spirit Wear.  Families interested in ordering Spirit Wear can do so directly from the JML Uniforms page.  Ordering will close Friday, November 25. Winona Wildcats :: JML Uniforms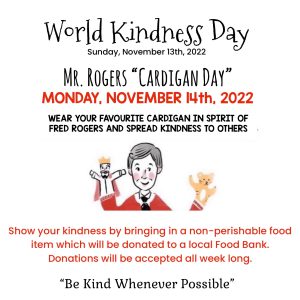 World Kindness Day – Our Kindergarten Team will be recognizing World Kindness Day (Sunday, November 13th), on Monday, November 14th, by wearing a cardigan in the spirit of Fred Rogers. They will also be collecting food donations all week long, for a local food bank. Families that are able to support this effort, are invited to drop off non-perishable food items this week for donation.
French Immersion – The program is open to all students in Hamilton‐Wentworth starting in Grade 1 (current SK students). French Immersion is a proven way of acquiring excellent language skills in French. The French Immersion program at HWDSB is specifically designed for parents who do not speak French but want their children to speak both official languages. The French Immersion application process for Senior Kindergarten students opens Monday, November 28, 2022 at 9 a.m. To learn more about the French Immersion program, HWDSB invites families to a French Immersion Information Night on Wednesday, November 23, 2022, from 7 – 8 p.m.  Additional event details will be shared in the coming days.
Grade 8 Information Nights – Grade 7 and 8 students and families are invited to visit their future secondary schools and learn more about HWDSB programs at upcoming Grade 7 & 8 Information Nights! This important event series is a combination of school and system-based sessions.  Orchard Park will be hosting their information session on Thursday, December 1 @ 6:30 pm.
Grade 8 Info Nights Flyer 2022 (3) (hwdsb.on.ca)
Grade 8 Info Nights – General and Specialty Flyer 2022 (4) (hwdsb.on.ca)
Updated on Sunday, November 13, 2022.