Black History Month – Events at MJ
February 1st marks the start of Black History and Heritage Month in Ontario and across Canada. In December 1995, the House of Commons officially recognized February as Black History Month in Canada following a motion introduced by the first Black Canadian woman elected to Parliament, the Honorable Jean Augustine. During Black History Month, many educators focus on the history and accomplishments of people of African heritage. Students and staff engage in various activities to celebrate Black culture and history and explore the achievements and significant contributions Black Canadians have made to help Canada become the diverse and strong nation it is today.
Members of our School Council have planned wonderful events for staff, students and families this month. Please see attachments. We cannot thank them enough for all their hard work and planning. We hope you can join us for these events.
During the month of February, educators will be using HWDSB's LEARN, DISRUPT, REBUILD  resource. You can view this resource at www.hwdsb.on.ca/about/equity/learn-disrupt-rebuild-hwdsb.
February – Empowerment Squared info to parents.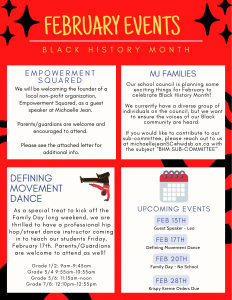 Updated on Thursday, February 02, 2023.