Reminder: Survey Closes March 7 on Future of Sherwood Options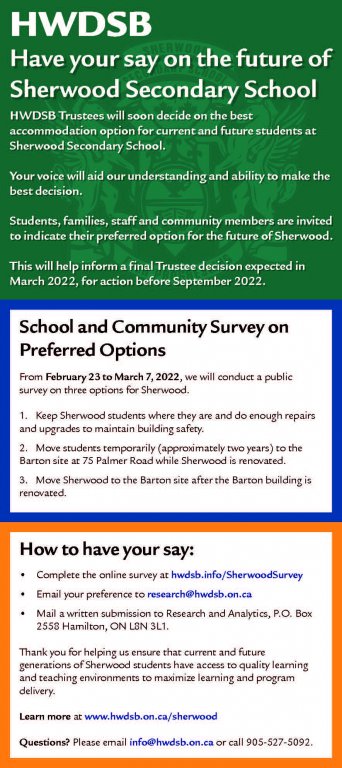 Dear students, families, staff and community members interested in the future of Sherwood,
HWDSB Trustees will soon decide on the best accommodation option for current and future students at Sherwood Secondary School, which needs about $11.96 million in high and urgent renewal work.
Thank you to those who completed the survey, submitted questions or attended the Virtual Information Sessions. See the attached flyer to learn more about this engagement effort.
This is a reminder to please provide your input using this survey before the end of day March 7, 2022. We believe that community input will aid our understanding and ability to make the best decision. Trustees are expected to make a decision in March 2022, for action before September 2022.
School and Community Survey on Preferred Options
From February 23 to March 7, 2022, we will conduct a public survey on three options for Sherwood:
Keep Sherwood students where they are and do enough repairs and upgrades to maintain building safety.
Move students temporarily (approximately two years) to the Barton site at 75 Palmer Road while Sherwood is renovated.
Move Sherwood to the Barton site after the Barton building is renovated.
How to have your say:
Complete the online survey at info/SherwoodSurvey
Email your preference to

[email protected]

Mail a written submission to Research and Analytics, P.O. Box 2558 Hamilton, ON L8N 3L1.
Please learn more about this topic and find updates at www.hwdsb.on.ca/sherwood/future-of-sherwood/
Updated on Tuesday, March 01, 2022.