Relive Showcase of heARTS 2022
Posted on Saturday, April 23, 2022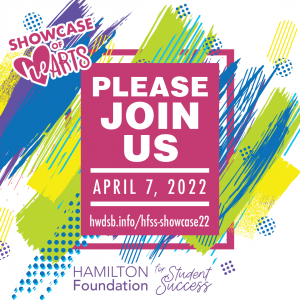 As the curtain closes on a successful Showcase of heARTS, Hamilton Foundation for Student Success (HFSS) and Hamilton-Wentworth District School Board (HWDSB) want to send out a huge congratulations and thank you to all those who supported or showed their talents at this year's celebration. 
For those who were watching at home, we wish you could have felt the energy buzzing from every individual in Glendale Secondary School theatre. Before the evening even went live, one could hear student performers awaiting their time to shine, cheering vibratingly for practicing acts. 
As always, the main purpose of the evening is to celebrate students and support students. With the help of supporters and donors, both were accomplished. HWDSB student talent was truly the star of the evening, with seemingly every medium of art put on display. From the elaborate "Under The Sea" musical performance provided by the HWDSB Audition-Based Program of the Arts, to the captivating video montages displaying visual art from students across the system, there truly was something for everyone in attendance.  
"One thing we tried to keep in mind during this entire process is all the creative ways that students could be involved during the leadup, and on performance night," said Luke Bramer, HWDSB K-12 Program Consultant. "Not only did student artists shine on stage, but they also stole the show behind the scenes with talented artistry. We saw unique hand-crafted items for the Silent Auction and gift boxes, students shone as photographers, capturing and editing video content pre and post show, stage crew made for what seemed like effortless transitions, and so much more." 
HFSS is proud to share that thanks to the generosity of the community, Showcase of heARTS 2022 was able to raise roughly $51,000 for HWDSB students! This money will help fund Student Support Grants, which were established to respond to emergency or extraordinary needs so students can come to school and thrive in school. 
"I am always in awe after months of planning and preparing to see what the finished product looks like. It was beautiful to see all the talent within the HWDSB, and how many supporters and donors were ready to do what they can to help students," HFSS Executive Director Amy Leaming Cote told us. "We want to recognize the staff contributions that it took to bring the night together as well. HWDSB Arts & Technology staff are catalysts within school buildings, igniting creativity and innovation daily! Thank you for making this event such a success!"  
For those who were not in attendance, or for those looking to relive the magic of the evening, we are pleased to share the full broadcast recording for Showcase of heARTS 2022. View the recording below, or find it on HWDSB.tv through this link.  
Be sure to open the official Showcase of heARTS 2022 Guest Program below so you can follow along as the acts grace the physical and virtual stages.
Showcase of heARTS 2022 Guest Program
Once you've enjoyed the full broadcast, you can head to HWDSB.tv to see a playlist of all the Showcase of heARTS 2022 performances! The playlist has also been embedded below for your viewing and sharing pleasure. Over the coming days and weeks, each indivudial Showcase of heARTS performance video will be spotlighted on the HFSS social media channels. Be sure to follow on Facebook, Twitter and Instagram to show support for the talented students.  
Thank you again to all the Showcase of heARTS performers, volunteers, staff, attendees, donors, sponsors, and whoever else had a hand in the event. We cannot wait to welcome you all back for Showcase of heARTS 2023! 
«
Showcase of heARTS 2022 Early Bird Ticket Pricing ends February 28
|
Over 300 Instrument Mouthpieces Headed to HWDSB Schools Thanks to Showcase of heARTS 2022
»