Showcase of heARTS 2022 Early Bird Ticket Pricing ends February 28
Posted on Friday, February 25, 2022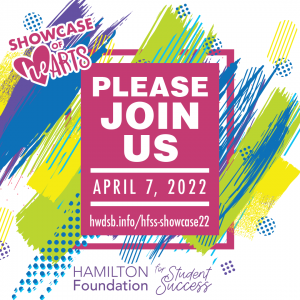 On Thursday, April 7, 2022, Hamilton Foundation for Student Success (HFSS) is hosting Showcase of heARTS. The online event will raise funds for Hamilton-Wentworth District School Board (HWDSB) students while celebrating their artistic achievements. Showcase of heARTS 2022 marks the first major undertaking for HFSS since being named HWDSB's Charity of Choice on January 31.
Following a very successful 2021 extravaganza that brought in over $40,000, Showcase of heARTS is returning with both live and pre-recorded performances from some of the best singers, musicians, dancers, and artists at HWDSB. As always, all proceeds from Showcase of heARTS go towards Student Support Grants, which provide financial assistance to HWDSB students so that they can come to school and stay in school.
Showcase of heARTS will include both LIVE and pre-recorded pieces, including:
CB Sterling kicking things off with a music and visual version of the Land Acknowledgment
Sherwood Musical Theatre taking on "This Is Me" from The Greatest Showman
LIVE – HWDSB Audition-Based Performing Arts performing a song from their upcoming musical The Little Mermaid 
Sherwood Rep Band sharing the stage with guest trumpet soloist Troy Dowding
LIVE – Glendale Dance Teams display a variety of numbers and styles
There will also be multiple slideshows and videos that highlight the visual and media talents of students from schools throughout HWDSB, accompanied by solo vocal artists from across the system.
Various ticket options allow guests to customize their own viewing party. Add a delicious three-course meal from La Piazza Allegra and a gift kit featuring locally-sourced products and unique pieces handcrafted by HWDSB students. Looking to make it a family event? In addition to the gift kit, the Family Viewing + Experience provides four three-course meals so you can dine together.
Returning as the evening's hosts are Max Francis, creator and founder of True Hamiltonian, and Arjun Ram, HWDSB student and journalist. This dynamic duo will keep you laughing, engaged, and entertained throughout the evening! Need some proof? Take a look at the Showcase of heARTS 2022 teaser video below.
Early Bird ticket pricing for Showcase of heARTS 2022 ends Monday, February 28! After that date, prices will increase. Visit the Showcase of heARTS event page for tickets and information.
«
Recruiting a Member of our Board of Directors
|
Relive Showcase of heARTS 2022
»