Events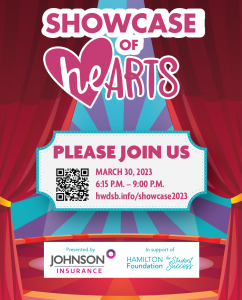 Presented by Johnson Insurance, Showcase of heARTS celebrates HWDSB student talent in all shapes and forms. Proceeds from the event go towards Student Support Grants, which provide much needed funds to support the needs of HWDSB students.
Date: March 30, 2023
Time: 6:15 – 9 p.m.
Location: McIntyre Theatre, Mohawk College (135 Fennell Ave W., Hamilton)
Or live-streamed from your own location
EARLY BIRD TICKETS ON SALE NOW!
ENDS FEBRUARY 28, 2023
Tickets and information: Showcase of heARTS 2023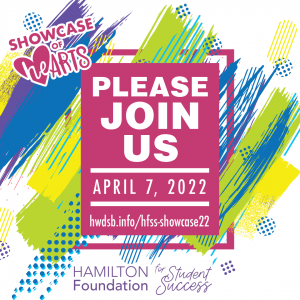 Presented by Johnson Insurance, Showcase of heARTS celebrates HWDSB student talent in all shapes and forms. With many in-school concerts, recitals, and events on hold, this is their time to shine!
Date: April 7, 2022
Time: 7:30 p.m. – 9:00 p.m.
Location: Streamed live, guests will watch from their own location
EARLY BIRD TICKETS ON SALE NOW!
ENDS FEBRUARY 28, 2022
Tickets and information: Showcase of heARTS 2022
---
HWDSB students are back to school and educators are learning about new needs students have as they adapt to new learning environments.
By purchasing one of our 
#
BeSafeBundles, you can help to support these student needs. 
For the past decade, The Hamilton Foundation for Student Sucess has been offering Student Succes Grants to make going to school as accessible as possible for students facing extraordinary or emergency financial obstacles during their education journey.
With the uncertainty risen during the COVID-19 Pandemic, it is even more important that we work together to help ensure every student has equitable access to learn in a safe environment. This year, we are introducing our #BeSafeBundles. For only $25.00, you can purchase one, which includes an HWDSB branded reusable face mask, reusable water bottle, lanyard and hand sanitizer. You can choose to have the items shipped to your house for your own use or you can opt to donate the Be Safe Bundle to a child in need in HWDSB schools.  
Your donation guarantees that students have their own pencils, rulers, erasers, markers and other basic supplies. While physical distancing and complying with other COVID-19 protocols, students who cannot afford school supplies and may normally use in-class school supplies that are shared amongst students are unable to do so safely.  

The picture is not representing one Be safe Bundle. A single Be Safe Bundle includes 1 non-medical face mask (not intended to replace social distancing), a 16oz aluminum water bottle, a 10oz antibacterial cleanser gel, and a lanyard. 
You can purchase a Be Safe Bundle today at:
https://app.gigitmarketplace.com/event/besafebundle
If you're unable to donate at this time, but want to help, we encourage you to  share our mission and the links to the Be Safe Bundle donation page with friends and family! 
---
Showcase of heArts- COVID-19 Safe Gala
This Fall, HWDSB students have returned to school facing incredible challenges. COVID-19 has meant that many students are struggling in many ways. Some have experienced job loss in their family and personal limited job opportunities, while others are grappling mentally and socially. All of this has led to a dramatic increase in the need for support from our Foundation.   
The heARTS Wide Open Gala has been a critical means to raise funds while celebrating the artist talents of HWDSB students. Last year was a tremendous success, raising over $48,000!   Due to the current pandemic restrictions, we are unable to run our Gala as per usual, so to continue the tradition of celebrating the artistic achievements of students, we will be hosting "Showcase of heARTS" on Thursday, February 4, 2021. Guests will enjoy both live and pre-recorded material in an upbeat, fun and reimagined experience with real-time engagements and interactions.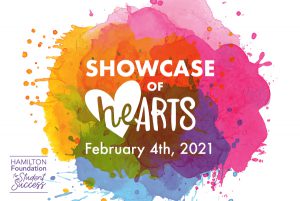 "Showcase our heARTS" guests will have the opportunity to, on top of enjoying student art, participate in fundraising activities, including a silent auction, with all proceeds supporting our Student Support Grants.
---
Check out our Facebook Page, Twitter, and Instagram to stay up to date on all HWDSB Foundation Events!