Deadlines Fast Approaching for Continuing Education 2023 Summer Programs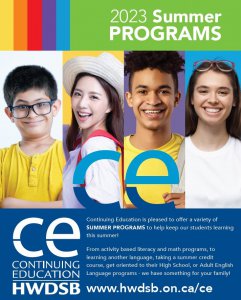 As summer is inching closer, consider registering for one of HWDSB's Continuing Education programs before time runs out! With a wide variety of summer programs, students can continue learning throughout the summer.
Continuing Education has you covered this summer! From activity-based literacy and math programs, learning another language, taking a summer credit course, preparing for secondary school, or Adult English Language programs, there is something for everyone. Check out the Summer Programs Brochure to learn more!
See the chart below for a full list of offerings. Click the program names to learn more and register. For more information about all of the exciting summer programming that continuing education has to offer, please click here.
Program
Eligible Grades
Program Description
Deadline to register
Reach Ahead (Credit Program)
Students currently in Grade 8
We are offering Civics and Careers courses to all Grade 8 students who will transition to Grade 9 in the fall. These open level half-credit courses can be taken individually (nine days) or in combination (18 days). This is the only credit program available to students reaching ahead before Grade 9. These courses will be offered online. New for 2023 – courses will be offered in both English and French!
June 9, 2023
Summer Skill Builder Non-Credit
Students currently in grades 6 to 10
Enrich and develop literacy and numeracy skills through participation in fun free summer activities. Programs are offered in one-week blocks starting July 10 through August 11 – morning and afternoon programs available. Art, coding and sports-based programs are also available to help keep your student engaged in learning this summer. Online and in-person programs are available.
June 9, 2023
Summer ESL Literacy Program
Students currently in grades 6 to 12 (ESL Level 3/CO or lower)
ESL students in grades 6 to 12 are encouraged to join our ESL Literacy Summer program to strengthen their literacy skills this summer. (Level 3/CO or lower)
June 9, 2023

Please contact your student's Principal or ESL teacher to register

Summer Learning Strategies Courses (Credit Program)
Students currently in grades 8 to 12 (with Individual Education Plans)
Summer Learning Strategies credit program helps students become better, more independent learners. Students will learn how to develop and apply literacy and numeracy skills, personal management skills, and interpersonal and teamwork skills to narrow learning gaps and improve their learning and achievement in school, the workplace, and the community.
June 9, 2023

Please contact your student's guidance counsellor or Principal to register

International Languages Elementary Program
Students currently in Grades Junior Kindergarten to Grade 8
International Languages Elementary classes provide academic instruction in languages other than English and French.  Available languages this summer: Arabic, Simplified Chinese, German, Kurdish, Tamil and Urdu. Most classes are online and class times vary. July 4 to 28, 2023. Monday to Friday.
June 9, 2023
Summer School Online (Credit Program)
Students currently in Grades 9-12 and Adults
A wide variety of full credit courses will be available through Summer School Online. Courses start July 5th and end July 28th.  On-line teacher support daily.  In-person tutoring is available.
June 29, 2023, 4 p.m.
Adult ESL Summer School
Adult English Language Learners (language assessment is required – we can help!)
4-week program provides the opportunity for formal language training in the four skill areas of speaking, listening, reading, and writing. You will complete at least one assessment in each skill area. Classes are offered at Canadian Language Benchmark (CLB) 1 to 8, plus Literacy at both Hill Park Learning Centre (mountain) and City Learning Centre (downtown).  July 4 to 28, 2023. Monday to Friday 9:00 am to 1:50 pm.
While spaces are still available
Updated on Wednesday, May 24, 2023.