Dundas Central School Council 2020-2021
Mabel's Labels Fundraiser until May 2021.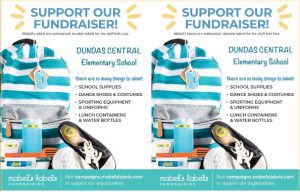 school council executive 2020 2021
Please join us for our next School Council Meeting through MS Teams on June 3rd, 2021 at 7:00 p.m.
All are welcome to join our monthly meetings.  You do not have to be a voting member to attend.  If you are not available to meet on this day, please forward discussion items to the link below.  We are pleased that Trustee Mr. Paul Tut will be joining our meeting this month.
Bethany Foster-Dundas Central School Council Chair
Laura Bartkiw- Principal Dundas Central
________________________________________________________________________________
Microsoft Teams meeting
Join on your computer or mobile app
Phone Conference ID: 807 308 958#
Dundas Central School Council Website
School Councils are an advisory group of parents and staff mandated by the Ministry of Education to review school policy and curriculum to:
improve pupil achievement and enhance the accountability of the education system to parents through the active participation of parents.
discuss educational issues and make recommendations to the Principal and Board of Education
email dundascentralsc@hwdsb.on.ca
Updated on Monday, May 31, 2021.