Expression of Gratitude – School Council
Billy Green School Council needs your help!
In this time of uncertainty with COVID-19, we want to put together a montage of photos and video clips to show the staff and educators at Billy Green how much we appreciate all the efforts everyone has made to keep our kids safe, supported and connected in the classroom and during remote learning.
Please upload a photo or short video clip that shares an encouraging message/ message of gratitude to all those that make Billy Green the best school ever! (See attachments for further details).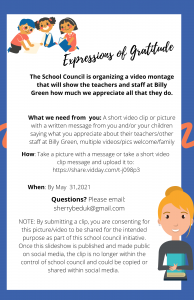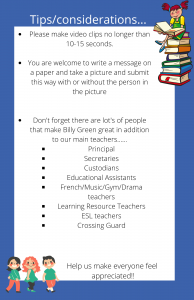 Submit your message before Mon, May 31, 2021 8:00 PM EDT.
https://share.vidday.com/t-j098p3
Once completed, the clips will be compiled by School Council.  Once the final video is shared with the school staff, the video will be shared on the Billy Green website or Twitter account for all to view.
Thank you for contributing,
School Council 2020-2021.
NOTE: By submitting a clip, you are consenting  for this picture to be shared for the intended purpose as part of this school council initiative.  Once this slideshow is published and made public on social media, the clip is no longer within the control of school council and could be copied or shared within social media.
Updated on Wednesday, May 26, 2021.