Winona News – Nov 20
Upcoming Dates
Nov 24 – School Council – 6:30 pm Library (MS Teams link will provided for remote option)

Nov 25 – PA Day – Staff engaged in professional development, the school closed for students

Dec 1 – Pizza Day
Dec 1 – Orchard Park Information Night
Dec 2 – School Council Family Movie Night – 6:30 pm – Winona Gym – Movie TBA
Dec 15 – Pizza Day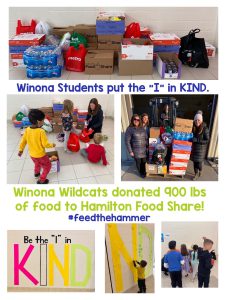 World Kindness Day – Thank you to the families who were able to support our World Kindness Day initiative by dropping off food donations. On Friday, we delivered the donations to Hamilton Food Share. Our school donated 900lbs of food!  Well done Winona community.
Pizza Days – Pizza Days are coming to Winona.  Beginning Thursday, December 1, we will be running bi-weekly Pizza Days.  Pizza will be provided by Pizza Pizza and delivered to your child's class during the second nutrition break.  Pizza can be purchased using SchoolCash Online.  Please reach out to the school if required support in order for your child to access this program.
Snow Clearing – With today's winter blast, we wanted to remind families of the HWDSB snow-clearing guidelines.  Snow clearing is a shared responsibility between board staff, contractors, and city staff.  Details can be found by following the link below.  Be sure to take your time on wet and snowy mornings even in areas that have been cleared.
https://www.hwdsb.on.ca/about/severe-weather/#tabs-112
Inclement Weather – Although the weather has been mild to date, we wanted to send a reminder regarding the HWDSB severe weather policies.  School boards have varied policies on cancellations.  The HWDSB Rule is Severe weather + Bus cancellation = No school. When HWDSB cancels busing due to inclement weather, we have deemed the roads unsafe and this triggers the closure of schools.  To better understand HWDSB's severe weather policy please refer to the following handout. Severe-Weather-Handout-for-Schools-2020.pdf (hwdsb.on.ca) or visit our HWDSB Severe Weather page. Severe Weather | Hamilton-Wentworth District School Board (hwdsb.on.ca)
Spirit Wear – Families interested in ordering Spirit Wear can do so directly from the JML Uniforms page.  Ordering will close Friday, November 25. Winona Wildcats :: JML Uniforms
Labour Updates – A reminder that our HWDSB will post updates and information regarding current labour negotiations and their impact on HWDSB school operations at Labour Update | Hamilton-Wentworth District School Board (hwdsb.on.ca).
Updated on Sunday, November 20, 2022.