Empowerment Presentation
In celebration of Black History Month, we partnered with a local Non-Profit Organization; Empowerment Squared. The organization has an existing partnership with HWDSB and we were pleased to have them come visit our school.
On Feb 13, the founder of the organization Leo Nupolu Johnson spoke at MJ.
Leo came to Canada as a government-sponsored refugee in 2006 after fleeing war in his home country of Liberia and spending eight years in refugee camps across Western Africa. Leo came to Canada and faced many challenges that newcomers still face today.
He founded Empowerment Squared based on helping both newcomers and marginalized communities by empowering them with tools and opportunities to thrive and contribute to society.
www.empowermentsquared.org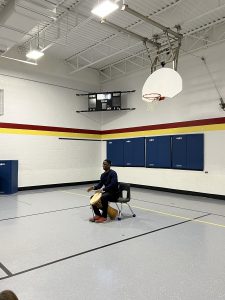 Updated on Wednesday, February 15, 2023.