How Does Our Comfort Garden Grow?
This week, we launched a challenge for all of our Dundana students, families and staff.  We are "growing" a Comfort Garden near the front entrance of the school.  We want to encourage any of our students or families to paint or decorate a rock at home with a design, image or message that will make our community smile.  Then, the next time you are walking or driving by Dundana, we encourage you to add it to our garden.   When we are finally able to resume our learning at school, we'll have something to make us smile when we walk in the front door.  Here's a photo of the garden as it currently looks.  Can you help it grow?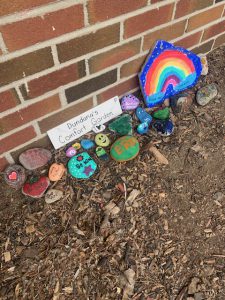 Updated on Friday, May 15, 2020.