Bell Times 
Entry Bell:  8:10am
P1 8:10-9:10
P2 9:10-9:50
NB #1  9:50-10:30
P3  10:30-11:30
P4 11:30-12:10
NB #2 12:10-12:50
P5 12:50-1:50
P6 1:50-2:30pm
Dismissal Bell:  2:30pm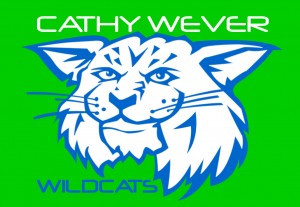 Our School
Cathy Wever Elementary School opened in September 2006. Our school is named after the late Hamilton Police Officer Cathy Wever. Cathy Wever worked tirelessly with community members to offer youth of this neighbourhood free after-school programs. She was the driving force behind the community partnerships and strong after-school programs enjoyed by hundreds of students today. After a brief battle with cancer Cathy Wever passed away in January 2001. The community wished to recognize her efforts by naming the new school after her. Cathy Wever Elementary School students are committed to representing our name sake well.
Cathy Wever Elementary School provides students with a balanced approach to the Ontario curriculum. With consideration to the whole child, student achievement is enhanced through careful attention to a healthy active lifestyle. All students take part in vigorous daily physical activity. We also provide every student with a healthy nutritious snack each morning.  We believe that student achievement will improve if we engage our students in a healthy active life-style.
Remedial instruction through after school in literacy and numeracy and the offering of a variety of free after-school recreational activities in co-operation with the Wever Core group are an integral part of the Cathy Wever School experience. We currently provide after-school activities to students each day through the Wever Core. At Cathy Wever Elementary School we believe that in co-operation with our community partners we can improve student achievement through the promotion of a healthy, active lifestyle for our students and their families. Very generous funding to provide these special programs comes from the Taste Buds, Hamilton Bulldogs, United Way, the Rotary Club of Hamilton, RBC, The Hamilton Community Foundation, Theatre Aquarius and McMaster University.
Programs & Services
Student Success Supports
At Cathy Wever we have numerous programs that we offer to support students' needs.  Our Learning Resource Teachers support all student in the area of numeracy and literacy.  Our Reading Specialist works daily with our FDK and grade one students to ensure they have the skills to be successful readers by the end of grade one.  As well our Student Success teacher works directly with our Intermediate students to support them academically, socially and emotionally.  Our English as a Second Language Teachers assist New Canadians to help them to assimilate to life in Canada and develop their English skills.  This also includes a Settlement Worker from the YMCA to support New Canadians.  Staff prepare a daily Nutritious Snacks for every student every day, ensuring students are fed and ready to learn. An After-School Scholar's Class for grade 3 and 6 students to prepare them the EQAO test is offered in the winter term. Our School Social Worker is with us two days per week to help with attendance issues and social emotional issues that impact student learning. We also have a Speech and Language Pathologist and Psycho-Educational Consultant working with our students who require these supports.
Clubs and Teams
At Cathy Wever we offer a variety of clubs for students during break times and after school.
Here are some of the clubs at Cathy Wever:
Checkers Club, In-door soccer Club, Boys Cooking Club, Go Girls Club, Bay Area Science Fair Club, Career Day Activities, Terry Fox Day Run, Colouring Club, Games Club
Here are some of the teams at Cathy Wever:
Cross-Country, Basketball, Volleyball, Soccer, Track and Field, Swim Team
Our School Plan
Curriculum Focus
Literacy and Numeracy improvement is our focus at Cathy Wever Elementary through focused classroom instruction. Literacy intervention programs are offered to students from Kindergarten to Grade 8 who are struggling readers.  FDK to Grade 1 we focus on students reading skills.  A balanced Numeracy program is the focus of our Numeracy program, from Number Talks, Guided instruction, Three Part Lessons to Problem Solving are all areas of focus for our students.  All students receive 100 minutes of Literacy Instruction each day and 60 minutes of Numeracy instruction each day.
Environment Focus
Our focus for all students and staff is promoting Positive Culture and Well-being.  Our classrooms regularly use Mindfulness to create a calm and positive environment where students can maximize their academic achievements.  Our classroom teachers regularly use community circles, brags and drags to develop a sense of community within each classroom.  Each month we celebrate one of our Character Traits, where students are given an award for demonstrating that months Character Trait.  We continue to provide a variety of experiences for our students to ensure that we are developing the whole child to become a productive member of our community.
Updated on Tuesday, October 16, 2018.