Students attending face to face classes in the Adaptive Learning Model must complete daily screening tests. Students must take a screen shot of the completed test and present it to their teachers.
Please see links:
How to do the COVID Screening-1
Coloured Zones:
Please use the doors that correspond with the Rotation 1 teacher
Rotation 1 – Teacher list – Coloured Entrances
BCSS – Bell Schedule (Adaptive Learning Model)
Schedule 
Block 1: 8:50-11:20     
145 minutes Face-to-Face  + 5 min Independent Learning
Dismissal/Travel: 11:20-12:40 
80min
Block 2: 12:40-1:30 
40min Remote
10min Independent
Block 3: 1:30-2:20 
40min Remote
10min Independent
Block 4: 2:20-3:10 
40min Remote
10min independent
School Calendar (Semester 2)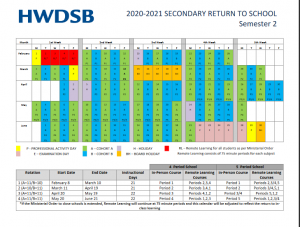 Parents and Guardians are invited to use the link provided for more information on BCSS school reopening times and protocols.
Updated on Monday, February 08, 2021.