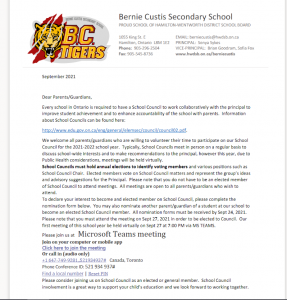 School Council Meeting and Elections: September 27th at 7 pm
Interested Parents/Guardians who wish to be nominated, please use the link attached and send your form to the school.
Parent Council Nomination Form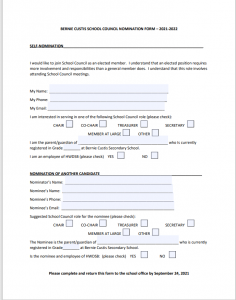 All nominations must be submitted to the school by Friday, September 24th.
*****************************************************************************************************************
Secondary Remote Learning 2021-22 (eLearning)
Grade 8-12 Parent/Student Communication regarding eLearning options
In a message to secondary students and families on May 11, the Director of Education shared that all school boards across Ontario have been directed by the Ministry of Education to deliver the secondary programming in the Quadmester learning model for the 2021-22 school year. At HWDSB, the secondary remote learning option will be delivered through eLearning.
While we encourage all students to plan to attend school in person, this communication is to inform parents/guardians and students aged 18 years or older to opt into eLearning if your child or you will not attend in person in September 2021.
If you choose to not attend school in-person or make this decision for your child, HWDSB's secondary remote learning option will be eLearning. In-person classes will not be available remotely as they are this year.
Parents/guardian and students 18 years and older are asked to declare in the Parent Portal if they will be choosing to learn remotely through eLearning in September. This form is open from 9 a.m. Monday, May 17 to 11:59 p.m. on Tuesday, June 1.
To find in Parent Portal go to Forms
Registration – Attestation to return to school/day care following illness or self isolation form
3rd form from the top – Secondary Parent Portal E-Learning Survey – only submit if your student will be doing E-Learning if they are returning to in school please do nothing as that is the default.
By default, students will be considered in-person learners unless this choice is selected. Original option sheet selections will remain – there is no need to choose courses again. The selection for the eLearning option will be for the first two quarters of the year. There will not be opportunities to transition back to in-person until February 2022.
HWDSB eLearning in 2021-22
In deciding whether eLearning learning is the best option for you/your child, please review the following program information:
There will be a limited selection of eLearning courses based on student demand and no guarantee that all courses are available via eLearning;
Most eLearning courses will not have live instruction, but there may be a small number of courses that do have live instruction;
eLearning courses follow the Ontario Curriculum and students will receive the same report cards as in-person school;
The eLearning classroom will use the HUB as the primary platform to deliver instruction;
Students choosing eLearning will be choosing this for the first two quarters (September to January).
Student option sheet choices will be considered for eLearning courses. New options will not be selected.
To learn more about eLearning, please visit eLearning | Hamilton-Wentworth District School Board (hwdsb.on.ca)
Parent Portal Support
Please use the Parent Portal to register your choice. If you are unable to access the Parent Portal please:
Call your school or email using the Elementary School Emails or Secondary School Emails listing if you are unable to access the Parent Portal.
School office staff will input your choice into HWDSB's student information system if you have trouble accessing the Parent Portal.
Next Steps
Students will receive registration information for 2021-22 by June 30. Parents/guardians and students 18 years and older will remain registered at their home school. Students can use personal/family or school-assigned devices to access the virtual learning platforms (MS Teams and The HUB) for their eLearning classes.
Updated on Tuesday, September 21, 2021.