HWDSB Marks Bullying Awareness and Prevention Week 2017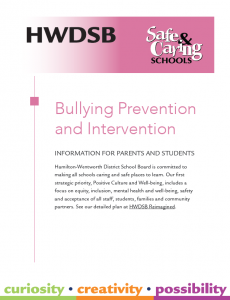 To mark Bullying Awareness and Prevention Week, HWDSB is working to make schools safer with its new bullying resource and continuing support for the board-wide use of the innovative anti-bullying TipOff service.
Schools have received updated versions of the Bullying Prevention and Intervention resource. The guide addresses topics such as defining bullying, signs of what families can do about bullying, and where to turn for help.
HWDSB continues to support TipOff for all schools as an anonymous approach to reporting bullying, using an app, toll-free number or website. This allows students to share tips without the fear of reprisal, judgment or discovery. Once received, tips are dealt with using HWDSB protocols.
"Technology can be a source and a solution to bullying, and it's important to be where our students are," said Sharon Stephanian, Superintendent of Equity and Well-being. "We are taking real steps to prevent and eliminate bullying in schools and build a more positive school culture."
HWDSB joins school boards across Ontario to mark Bullying Awareness and Prevention Week, which is November 19-25, 2017. During the week, students, staff and parents are encouraged to learn more about bullying and its connections to student learning and well-being.
"We want all students to know that bullying is wrong, should not be endured and can be stopped – as long as we speak up and work together for a more accepting school culture," Stephanian said.
"Parents and children should never endure bullying in silence" Stephanian said. "Please remember that school staff are ready to help."
Learn more:
Bullying Prevention Website
Bullying Prevention and Intervention resource
TipOff website
TipOff video overview
Updated on Friday, November 17, 2017.