Good afternoon Yorkview Families!
The Principal Updates will include information that relates to our school community or information you can share with your children while we are apart doing our distance learning.  The Yorkview staff misses your children dearly and cannot wait for the day when we are back in our school building looking at everyone face to face.
You should be receiving messages through School Messenger and information through the Board website. If you have not, please make sure your contact information is updated through your child's teacher.  The Board will also be managing our website and adding any pertinent information to it.  As staff, we get daily memos that keep us apprised of the next steps being taken by both the board and the Ministry of Education.
As we head into yet another week of distance learning, I am hopeful that families have settled into a routine and that you are becoming more comfortable with the myriad of ways you have to receive and send the information you need.  I know the Yorkview staff have been working diligently to make sure everyone is connected, everyone has the tools required to learn and is able to access the learning provided.
Last week Mrs. Cochlin, Mr. Griffiths and I were at school connecting with families whose children required technology to access learning. Thank you to the wonderful folks who drove/walked up and helped to make the process a smooth one. It was nice to see your faces and hear your words of encouragement.  As always, if you are experiencing any difficulty, please reach out to your child's teacher so we can try whatever we can to rectify any concerns, or obtain the necessary support for your family.
We can appreciate that some students will find this way of learning a challenge. Let them know they are not alone.  We, as a staff, are finding all this challenging.  At Yorkview we also try to see these challenges as new opportunities for growth and independence, and we have learned that perseverance leads to success. I know that we will all come out of this with new learning that makes us better in some way. Thank you so much for helping your children navigate through this way of learning. Together, we got this!
Coming Soon: Please let your children know that for the month of May our character trait will be bravery.  Whether we are back in class or still distance learning, I'll be adding quotes and announcements, as we do at school, so they can delve deeper into what bravery means to them at their age.
If you know of a family who needs food or food delivery, please see below: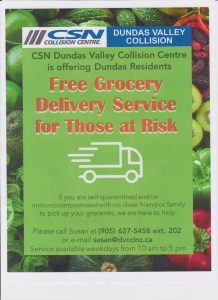 Where to access food in the city:
April 22, 2020
Good morning Yorkview!
We would like to take the time to wish Mrs. Cochlin a Happy Administrative Professionals Day! Mrs. Cochlin has been the backbone of the Yorkview community for many years and continues to support us all while she works from home.  I know she misses all your morning hellos and especially giving out milk to all the smiling faces.  Mrs. Cochlin is working on refunding money for pre-purchased milk and pizza, so you should be receiving yours soon, if you haven't already.
If you are looking for some family fitness, check out https://www.ymcahome.ca/ to find fitness activities for children, parents and families to do together or on their own.
April 23, 2020
Good day Yorkview!
If your circumstances have changed and you find your child in need of a device so they can complete their distance learning, please contact your child's teacher to let them know.  We are still able to provide you with a device so sibling rivalries can become a thing of the past!  Please specify if you need a device with or without wifi access so we can accommodate your needs.  I will follow up with you to schedule a pick up date and time.  Unfortunately the school is still closed to the public so retrieving personal items is not possible.
May 4, 2020
Good morning Yorkview!  This month we want to celebrate bravery.  Bravery is when you show courageous behavior or character.  We looked at courage before, so hopefully students remember the acts they displayed to show courage.  Bravery is the ability to confront pain, danger, or attempts of intimidation without any feeling of fear. … Courage, on the other hand, is the ability to undertake an overwhelming difficulty or pain despite the eminent and unavoidable presence of fear.  They are closely related.  Do some research to come up with a definition that works for your household.  At Yorkview, together, we are showing bravery for the month of May!
May 5, 2020
"I learned that courage was not the absence of fear, but the triumph over it. The brave man is not he who does not feel afraid, but he who conquers that fear."
Nelson Mandela
Everyone gets afraid sometimes.  It's how we conquer that fear that matters.  What has worked to help you show your bravery?
The parents of students who have IPRC annual reviews coming up will be receiving an email today regarding next steps in this process.  If you have any questions, please feel free to get in touch with us.
May 6, 2020
May 8, 2020
Please congratulate yourself on finishing another week of distance learning.  We know that for some of you, it is not an easy task.  We applaud your perseverance and encourage you to keep it up!  Even if you skip a day of participating in what your teacher sends out, you can always read….and then read some more!
May 11, 2020
I hope all our caregivers enjoyed a wonderful weekend with their children.  I hope families got a chance to thank all the people who have played a role in raising such fantastic human beings!
If you know of any families in need, please give them the information attached: The Hamper delivery program
"You can't be brave if you've only had wonderful things happen to you." (Mary Tyler Moore)
During this time when schools are closed and we are staying away from each other to stay healthy and safe, we may not be thinking "this is the most wonderful thing that has ever happened to me!"  Think about how this experience has helped you grow and helped you demonstrate your bravery.  For me, I've had to learn how to host and moderate online meetings.  That may not be a new thing  for many people but it was for me.  I had to make many attempts to use a program that I wasn't familiar with and scared to try.  But I did it…and keep trying something new every day!  Sometimes those things that don't start out as being wonderful help us learn and grow.  It doesn't mean we have to think the experience is wonderful, we just have to understand how it has given us a hidden gift by allowing us to demonstrate the things that are within us, such as bravery.
May 13, 2020
Let's hope for warmer weather soon!
If your circumstances have changed and your child needs an iPad, please let your child's teacher know.  We can get you an iPad that can be used with your existing WiFi or, if necessary, an iPad that is already internet enabled.
May 14, 2020
Today would have been our Yorkview Open House night! A chance to mingle with staff and friends and see all the wonderful work going on at the school.  A chance for families coming to Yorkview next year for JK, to meet fellow FDK parents and kids and see what a wonderful community they are about to join.  Instead, we are all doing our part to keep Dundas safe and healthy.  I want to particularly thank all those people who are still working, either on the front lines or in some other manner of support in the outside world or at home, you are showing bravery in these unprecedented times and providing an excellent example for our students.  Our community is amazing….even at safe distance!
Today Parents/Guardians of students with Individual Education Plans (IEPs) should have received an email letter letting you know you will be receiving an encrypted version of your child's IEP by email.  You will also get a chance to provide your input for revisions through a phone call if necessary.  All teachers are updating the IEPs to reflect the small changes that may have taken place as a result of distance learning.  You can reach out for a conversation if there is anything above and beyond those changes that you would like to have flagged or if you did not receive an email today.   Call the school anytime, we will pick up messages periodically.
June 2, 2020
We have had a very busy few weeks.  It has been wonderful seeing some students through MSTeams when they meet with their teachers.  Please make sure you have visited the BOOKING CALENDAR on the main page of the website, to book a time to pick up your child's belongings.  If you are unable to make it in, due to illness, you may give permission to another parent to pick things up for a contactless drop-off or make arrangements to come later in June.
This week we say good-bye to 2 staff members who have helped us in FDK throughout the year.  Ms. Zefferino and Ms. Blaskevitch are both ending their long term occasional contracts this week.  We are very sad to see them go as they both have been a wonderful addition to the Yorkview kindergarten community.  We welcome back Ms. Henry and Ms. Muller who will be returning to full time duties next week.
It will be nice to see parents and students picking up belongings over the next few days.  It has been a long time!  It will be difficult not to take the time to socialize, even at a distance, but we ask that you follow the rules set out by HWDSB and Public Health, available on the board website and also located here: Pick Up Steps Elementary (1)
June 22, 2020
We are in our last week of an unprecedented school year.  The resilience and innovations shown have been incredible.  It has been wonderful to watch everyone learn and grow together.
As we head into our next school year there are some staffing changes to announce.  Ms. Rasmussen will be leaving us to go to a full time job at AM Cunningham school.  We will miss her dearly.  In the year she's been at Yorkview she's supported both staff and students in very meaningful ways.  We welcome Ms. Joshua who will be joining us in Ms. Rasmussen's role as librarian, prep teacher and in the grade 1/2 class with Mrs. Fink.  We have already let her know she has come into a magical school and will absolutely love Yorkview!
We also say farewell and congratulations to Mr. Nicole who has decided to retire at the end of this year.  He has spent many years educating students in both French and The Arts.  He has always enjoyed teaching, repeatedly rising to the challenges thrown by an ever changing system with a creative flare.  His sense of humor and creativity will be missed here at Yorkview.  We wish him well on his retirement! Bonne Chance Monsieur!!
Your child's teacher will be contacting you this week to let you know who their teacher will be next year.  You can visit our staff page to see the full list of Yorkview staff and classes.  Report cards will also come out this week.  They will be sent electronically to the email associated with your school messenger contact.  Please update your email with the school and on the app if the current one is no longer valid.  If you have been receiving calls and emails during this time of closure, then you know we have the correct information.
Finally, we will say goodbye to our grade 5 students as they leave to attend middle school.  They have been independent, truthful and confident risk takers who have lived up to the many challenges thrown their way, especially in the past year.  They have helped make wonderful things happen at Yorkview and we know they will persist and persevere to make their time at Dundas Central something memorable.  Congratulations to our class of 2020!
June 23, 2020
As we head into the final week of school and summer holidays the planning process is underway for organizing classroom groupings. We group children so that there are a variety of academic levels in each class allowing for the flexibility needed to create a variety of instructional groups. Teachers met with me to discuss the needs of each student. Some of the issues discussed and considered are:
a) balance of ability, interests, and talents
b) balance of males/females
c) learning styles of students
d) teaching styles of teachers
e) diversity
f) resources and remedial or enrichment needs
g) students to be kept together or separated because of the positive/negative influence on each other's learning.
We appreciate your trust in our professional judgment in balancing the considerations mentioned above. The final decision for class placements is the responsibility of the Principal. If you have further information regarding your child's learning needs that I should consider, please make sure you contact me directly, although I will not entertain requests for specific teachers.
The staff is a dedicated team of professionals. Years of meeting the learning and social/emotional needs of students give them the unique qualifications to make these decisions with me. It takes hours of discussion, reflection, revision and consideration of an alternative to arrive at the best organization for our school. The best may not be perfect but represents what we believe are the best chances for success. It is entirely possible that class list revisions will have to be made before opening day in September and even after the first day of school due to changes in enrollment or staffing. We pledge to do our very best to develop classes that will maximize opportunities for each child to learn, grow and be successful.
I thought that as we head into the summer holidays with so much uncertainty, knowing who your child will have as a teacher is one positive concrete piece of information that would decrease any anxiety that may be present vs produce any anxiety. Feel free to call the school and leave a message to speak directly with me if you have any concerns that I may need to consider.  We will be accessing school messages until Friday June 26th at 3:00 PM.
June 26, 2020
We have now completed an unprecedented school year!  The Yorkview staff, parents and guardians have done an amazing job of keeping our students engaged and learning.  I hope many families have decided to participate in the summer programs offered by HWDSB. Our Yorkview staff is exceptional! They have prepared the students well and are looking forward to their return in the fall…both physically and virtually.  I feel honored to work with such a talented group of educators.
We want to thank our incredible School Council for their wonderful work in engaging students and parents, not only up until our school closure period, but throughout the year.  We appreciate and value the hard work you have all done to make Yorkview one of the best schools in the city!  The Yorkview staff want to particularly thank Majdi Qutob and Brian Gauthier, Yorkview School Council Chair and Co-chair, for their unwavering support.  Brian is leaving us, "graduating", after 6 years of working on council providing his support and expertise in various projects, and his dedication has been invaluable.  In the short time I have had working with this council it has been both a pleasure and a privilege!  Every member is a dedicated asset to the community and I encourage parents to join us next year.  Please look to the School Council tab for details in the fall.
Our school office is closed for the summer until Monday, August 31. We will be unable to respond to any messages during this time.  If you have any questions, need help registering your child for school, or need assistance over the summer, please call the HWDSB Education Centre at 905‐527‐5092 or email info@hwdsb.on.ca.
HWDSB is committed to sharing information with you about our return to school plans before September so will communicate with you via SchoolMessenger throughout the summer.
We hope you have a fantastic summer and look forward to when we can see you again…physically and virtually!
Updated on Thursday, June 25, 2020.