Winona News – Feb 26
Upcoming Dates
Mar 2 – School Council Family Movie Night
Mar 3 – PA Day (no classes)
Mar 7-8 – Grade 8 Grad Photos
Mar 9 – Pizza Day (Order by Feb 5 – noon)
Mar 13-17 – March Break (no classes)
Educational Excursions – Over the next few months, some classroom educators will be planning excursions.  We want to remind families that experiential learning is considered an extension of classroom learning and is planned with all students in mind.  We ask that all families complete and return the permission forms in order for their child to attend the excursion.  Families that can, are asked to pay for the cost of the excursion using SchoolCash online.
Icy Conditions – Thank you to everyone for their patience during Friday's pick-up and drop-off.  The weather had created icy conditions on the sidewalks and entryways.  Please be advised that there will always be safe routes into and out of the building and that families are not required to walk through icy pathways.  If unsure, staff on duty can help direct you to where these safe pathways can be found.
School Council Family Movie Night -School Council is excited to provide our community with another Family Movie Night (Lyle Lyle Crocodile), on Thursday, March 2 (Friday is a PA Day).   Admission is free.  Students can wear their PJs and bring a blanket.  Adults are welcome to bring a folding chair for comfort. Family supervision is required for students. Doors open at 6 pm.  The movie will start at 6:30 pm. Pizza and snacks will be sold, with profits supporting School Council initiatives.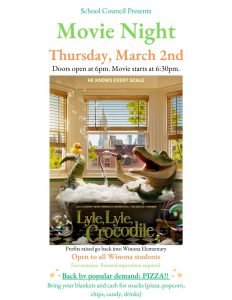 Updated on Sunday, February 26, 2023.