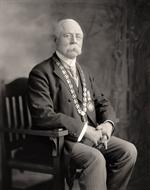 When constructing the new Ballard School, the Hamilton Board of Education has established a worthy memorial to the work of Dr. W. H. Ballard, M.A. L.L.D., in whose honour it has been named. As the largest public school in Canada, the Board of Education deemed it most fitting that it should bear the name of one who was not only a well-known citizen of Hamilton, but also one of the most distinguished educationalists of Canada.
Dr. Ballard's career was a long and brilliant one. He was born on a farm near Greenwood, Ontario in 1845 and attended public school there. He later taught at the school before attending the University of Toronto. The doctor distinguished himself in his studies and graduated from university in 1871 with the degrees of B.A. and M.A..  He was also awarded the gold medal for excellence in mathematics.
Dr. Ballard was principal of the Chatham Grammar School for three years (1871 to 1874) after which he was appointed to the teaching staff of the Hamilton Collegiate Institute. In 1884 he was elevated to the office of Principal of the Collegiate, a position which he had not occupied for more than a few months when fresh honours were conferred upon him -he was appointed chief inspector of the Hamilton's public schools. He held this latter office in addition to that of local administrator of the Adolescent Act.
In June 1923, Dr. Ballard received an honourary degree of Doctor of Laws (LLD) at Toronto University.
Updated on Tuesday, June 05, 2018.