Program Description
The Art Academy at Sir John A. Macdonald is the oldest art program in the city with its origins dating back to the Hamilton Art School in the late 1800s.  This tradition has produced many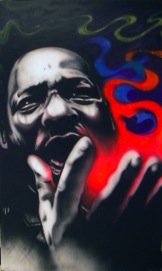 artists including A.J. Casson and J.E.H. Macdonald of the Group of Seven.  The program continues to help students gain entry to post-secondary art programs at colleges and universities and currently has many former grads at institutions like Sheridan College and Ontario College of Art and Design.
Students come to SJAM from around the city to focus on visual arts in a program that offers a very wide range of courses. As well as the usual comprehensive secondary visual art courses, we offer many specialized art courses such as Drawing and Painting, Sculpture, Information design, Interior Design, photography, Animation, Illustration, exploring the Arts through film, portfolio, etc. Sir John A. Macdonald also offers Fashion Design and Communications which dovetail visual art programs is over 95%.
Courses Offered
Core Art Courses
These are the "building block" courses where you develop and practice the basic skills needed for each grade/level. Learn drawing and painting, printmaking, colour theory, pottery, sculpture, and Art history from the ancient Egyptians to modern times. These courses can lead to college and university application or just be for fun.
Grade 9 Art AVI1O1
Grade 10 Art AVI2O1
Grade 11 Art AVI3M1(pre: AVI1O1 or AVI2O1)
Grade 12 Art AVI4M1 (pre: AVI3M1)
Special Focus Courses
These are courses that focus on particular media, techniques and subjects. Part 1 is needed to take Part 2 in all these courses.
Ceramics
Learn to make cool stuff out of clay and even learn to throw on a potters' wheel if you want. This whole course is working with clay!
Ceramics 1 AWC2O1
Ceramics 2 AWC3M1 (pre: AWC2O1)
Drawing and Painting
Learn to draw and paint. Start with beginner techniques and develop higher skills, learn to use a variety of materials including acrylic paint, watercolour, charcoal, etc.
Drawing & Painting 1 AWM3M1 (pre: any Art)
Drawing & Painting 2 AWM4M1 (pre: AWM3M1)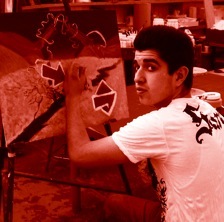 Animation
All about animation. Draw cartoons, make animations and watch cartoon animations. Classical animation from Disney to Anime, claymation, computer animation, etc.
Animation 1 AWR3M1
Animation 2 AWR4M1 (pre: AWR3M1)
Illustration
Are you into comic books, caricatures, advertising art, children's book illustration, poster design, cartoons, computer layout and design, Adobe Photoshop & Illustrator? This course covers it all and more. Projects are done with digital and traditional media.
Illustration AWK4M1 (pre: AVI3M1 or AWM3M1)
Digital Media
Learn to use the computer as a modern medium for art. This course is taught in the iMac lab. Studies include Photoshop, iMovie, In Design, Illustrator, Garage Band, etc.
Digital Media 1 AWS2O1
Digital Media 2 AWS3M1 (pre: AWS2O1)
Native Studies Art Courses
Learn about Aboriginal Culture. Make and play a deerskin drum, learn to sing traditional songs, make art prints and more, all from a Native perspective. In Aboriginal Media learn about crafting documentary videos from an Aboriginal point of view.
Students from all backgrounds are welcome.
Expressing Aboriginal Culture  1 NAC1O1
Expressing Aboriginal Culture 2 NAC2O1 (pre: NAC1O1)
Aboriginal Media 3 NBV3C1 (pre: NAC2O1)
For more information about Native Studies, please visit the Native Studies page.
Portfolio Building
Build and prepare a portfolio for university and college program applications. This Course requires well-developed art skills and self-discipline. Only for the serious art student.
Portfolio AWD4M1 (pre: permission of Art Dept.)
Photography
Learn to take better pictures, develop and print photographs, and learn about the history of photography. Traditional and Digital methods will be covered.
Photography 1 AWQ3M1 (pre: any Art)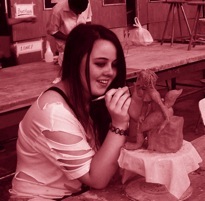 Photography 2 AWQ4M1 (pre: AWQ3M1)
Sculpture
This course is all about 3D Art. Learn to create sculptures with clay, plaster and wood. Work both abstractly and realistically, while sculpting and casting.
Sculpture AWP4M1 (pre: any Art)
Yearbook Design
Take the photos and create the pages that makeup SJAM's yearbook. Assemble a record of the "year that was". Learn to use the appropriate software and apply it in the iMac lab.
Yearbook 1 AWE3O1 (pre: any Art)
Yearbook 2 AWE4M1 (pre AWE3O1)
Co-curricular Activities
SJAM Art Club
Anime Club
Art Shows, including Artsfest, Print Studio, Chamber of Commerce, Carnegie Gallery, Hamilton Public Library
NYC Trip
Chicago Trip
R.O.M. Trip
Collaborations with The Print Studio,  Hamilton Spectator, HWDSB Events, SJAM Drama Department, and more…
Get smART… take Art….. and be Creative
Updated on Thursday, May 24, 2018.