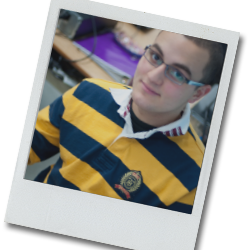 Located in the heart of downtown Hamilton, Sir John A. Macdonald Secondary School is one of the largest multi-cultural schools outside of Toronto.  Canadians, including a sizeable group of aboriginal students, study alongside ESL students coming from about 80 countries and speaking more than 50 languages.
Our state-of-the-art auditorium seats 750 people for theatre productions, musical events, school assemblies, and community events. Seven computer labs with over 200 computers are available for student use.
SJAM is a safe and inviting school where dedicated staff offer programs in every academic area at all levels, including Workplace, College, University and ESL congregated classes, as well as many new stay-in-school and school-to-work initiatives. Our extra-curricular activities are as diverse as the student population, ranging from sports to music to art to homework and ESL clubs.
We encourage parents and guardians to take an active and regular interest in the progress of their sons and daughters, so that together we can develop the skills and attributes that are vital for success in the third millennium. We help our students to develop a sense of responsibility and thoughtfulness towards others and the best possible use of their abilities. We continue to provide a happy, friendly and stimulating atmosphere that attracts students and spurs all of us into giving our very best effort.
Macdonald is Number One!  Blue and Gold is Number One!
Sir John A Macdonald Secondary School has been an integral part of the downtown landscape for over 40 years. The building was designed by Prack and Prack in 1970 and has since been part of the west downtown skyline.
It is the largest capacity school in Hamilton-Wentworth District School Board and one of the most multi-cultural schools outside Toronto. Canadian students, including a sizeable group of aboriginal students, study alongside ESL students coming from about 80 countries and speaking more than 50 languages.
Macdonald is a learning community comprised of students, parents and staff who work together in pursuit of excellence in education. Students engage in a first-rate educational experience because of the positive contributions made by our staff, our parents and our community. Macdonald is committed to academic accountability, a safe learning environment, the development of literacy and numeracy skills and high expectations for our students.
Sir John A Macdonald Secondary School exudes excellence in academics, sports, clubs, activities, and community involvement. The ability to achieve excellence is possible because of our dedicated students and committed staff who are continually challenging themselves to be the best they can be. The scholastic and athletic preparedness and success of our students is recognized throughout local and provincial colleges, universities, apprenticeship programs and workplaces.
Vision: At Sir John A. Macdonald we work together to enable all students to lead productive lives in a multicultural society.
Mission: We strive to educate students in a learning environment where excellence, innovation, accountability, equity and diversity are valued.
Beliefs: We believe all students have the potential to succeed and will be given every opportunity to do so. We believe in celebrating our diversity and multiculturalism. We believe in equitable treatment of all individuals. We believe in a safe and welcoming learning environment. We believe in excellence, innovation, partnerships and technology. We believe in fostering a language-rich environment throughout the entire school.
Updated on Thursday, May 24, 2018.