Last Call for Student Trustee Applications – Due March 20 at 4 p.m.
Hamilton-Wentworth District School Board is committed to hearing the voices of the student population through the elected student trustees on an annual basis and appreciates that the student perspective is considered in the decisions of the members of the Board of Trustees, and provides our students with valuable learning opportunities and experiences.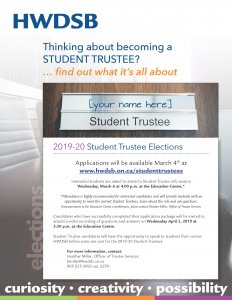 A Student Trustee is a member of the Board of Trustees and as such is part of the deliberations and decision-making of all matters brought before the Board. Some critical responsibilities of the Student Trustee are to represent the interests of students during deliberations of the Board of Trustees and to communicate Board decisions to system students.
There are two positions for Student Trustee.
Elected by students attending an Election Assembly, each Student Trustee has a standing position on Student Senate. The two student trustees are expected to co-chair the Student Senate meetings and provide updates to Senate on Board directions, policies and activities.
For more information about the Student Trustee position, please visit https://www.hwdsb.on.ca/about/trustees/ and scroll to the Student Trustee section at the bottom of the page.
To apply to be a Student Trustee, view the Student Trustee Application form 2019/20.
Updated on Tuesday, March 19, 2019.