Secondary schools will begin the year in an adaptive delivery mode.
HWDSB secondary schools will implement an alternate day rotational model that will include a combination of in-person at school instruction and remote learning.
Students will attend in-person, based on their cohort designation (A or B) on either Monday/Wednesday and alternate Fridays or Tuesday/Thursday and alternate Fridays for 145 minutes and then be dismissed (those not attending in-person would continue with remote learning).
Following a minimum 80-minute transitional time they will then engage in 3 x 40 minute periods of remote learning (adjusted accordingly for schools that operate on a 5 period day).
The remote learning periods will be teacher directed.
A rotation would be applied so that students have the opportunity to engage with each of their courses in-person throughout the semester.
Students requiring high levels of special education supports and services will be provided an opportunity to attend daily.
The model restricts the direct and indirect contacts students have to one cohort of approximately 15 students.
This is well below the limits set by the provincial guidelines and follows the advice provided by Hamilton Public Health.
HWDSB's 21st Century Learning Strategy, including the provisioning of 1:1 devices for all secondary students and ongoing professional learning to support teachers with the use of the standardized digital learning environment, The Hub and MS Teams and remote learning approaches, further supports students.
Study Hall
On days that students are scheduled to be at school in-person with their cohort they will have the option of remaining at school to complete their remote learning courses. A protocol is being finalized that will allow parents/guardians (and students 18 years and older) to indicate if the student will be remaining at school following the in-person portion of the day. Students that remain at school will be assigned a space in a designated 'study hall' area of the school (e.g., gymnasium, learning commons, cafeteria) and will be expected to remain in this space for the duration of the remote learning blocks. Every effort will be made to keep cohorts within the same area to minimize the number of direct and indirect contacts students have with other students. Study Halls will be supervised, however, support with course work will continue to be provided through remote instruction.
Staggered Start and Cohorts
Similar to the plan for elementary schools, a gradual return-to-school approach is being planned for secondary school. The staggered start will focus on smaller groups of students, commencing with those requiring special education supports and/or additional support with transitions and mental health, becoming familiar with the routines and enhanced public health. The chart below illustrates the staggered approach for students attending secondary schools.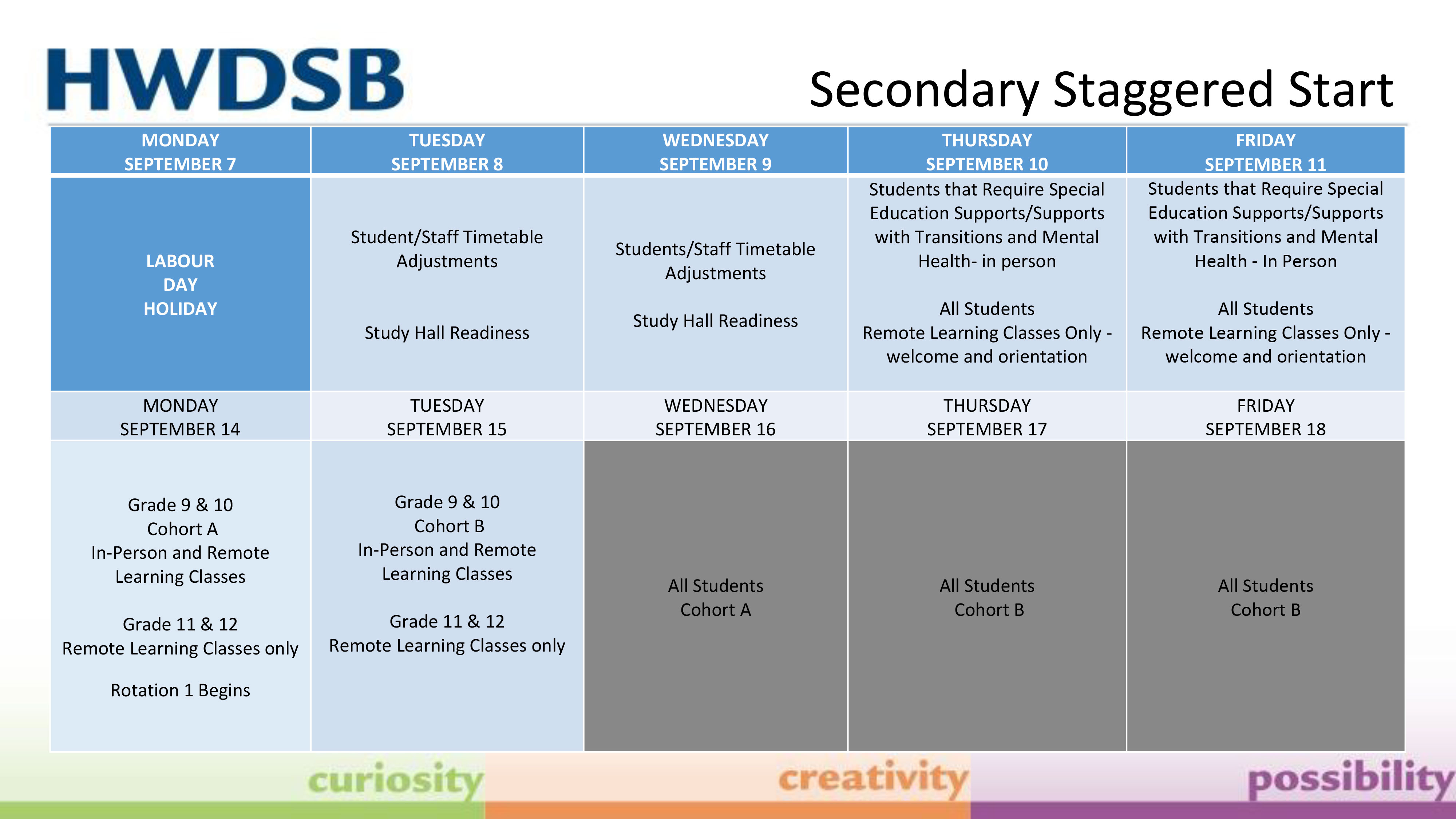 Click HERE  for a copy of the Cohort Schedule
---
For most students who require special education support, the secondary orientation for students in Gr. 9 and Gr. 10 noted above will provide a good transition back to school. For a small number of students in grade 9 and beyond that require significant special education supports and services, individual visits will be scheduled on September 8 and 9. In advance of an individual visit, resources will be posted on the HWDSB Learning4Success site the week of August 31 for parents/guardians/caregivers to rehearse with their child where relevant. These resources include a number of social stories such asWearing My Mask, What is Physical Distancing? and Using My Own Materials. Also, task strips on topics such asHow to Wash My Hands andHow to Put on My Mask will also be added to the Learning4Success site. These resources will support students to learn the enhanced public health requirements.Student cohort information will be available through the Parent Portal as of August 31. Instructions on how to access this information can be found at www.hwdsb.on.ca/parent/.
Ipad Distribution For New SWC Students
Parents/guardians of Grade 9 students and students new to Sir Winston Churchill are asked to follow the process outlined below to allow their student to receive a school issued iPad:
Step 1: Parents/guardians are to review the "Digital Tools Home Use – Frequently Asked Questions" document (attached).
Step 2: Parents/guardians are to complete the "Digital Tools Permission Form – 2020-2021" (attached) and have their student return this form to their homeroom teacher, beginning the week of September 14th.
Step 3: If students have an iPad from their previous school, this will be returned to their homeroom teacher, beginning the week of September 14th.
Step 4: On September 14th (Cohort A) and September 15th (Cohort B), staff will visit homeroom classes to distribute iPads to students if they have completed both Step 1 and Step 2 above. A copy of the "Digital Tools Permission Form – 2020-2021" will be provided to students who need a copy so they can have this form completed and returned the next in-person learning day.
For any returning students, they are to notify their homeroom teacher of their need for an iPad.
Please contact the school should you have any questions or if you need support.
Updated on Thursday, February 04, 2021.