Weekly Reminders
It's hard to believe but this is the last email of the school year…so just a few important weekly reminders…
Monday, June 24th (today)
Grade 5 Graduation
***Please Note:  If you are taking your child home after graduation ceremonies, please make sure you inform the office as you are leaving and sign him/her out on the Sign Out form.  Your cooperation is greatly appreciated.***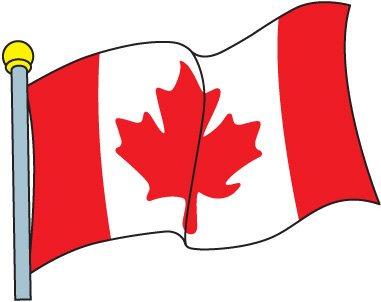 Wednesday, June 26th
Canada Red and White Day
Monthly "Trustworthiness" Assembly (10:45 a.m.)
Report cards are sent home
Thursday, June 27th
Friday, June 28th
Important Dates to Remember
Thursday, June 27th – last day of school
Tuesday, September 3rd – first day of school
(The school will be closed through the summer and will re-open Monday, August 26th to Thursday, August 29th from 8:30 a.m. until 2:00 p.m.)
Report Cards
Report cards will be sent home on Wednesday, June 26th.  Please take time to celebrate the achievements of your child and to look toward goal setting for the future.  Ask your child what they are most proud of, and where they will continue to improve with your support.
Courtesy Transportation – IMPORTANT!
Students who do not qualify for Board approved busing must apply for "Courtesy Bus Transportation" every school year.  Forms are at the school office and should be completed before the end of the year.  Only once permission has been granted by administration in writing, may the child use the bus service.  Courtesy busing will be up to the discretion of the administration and be based upon age of child, needs, and spaces available.  Courtesy bus riders must apply and re-apply every year.  Please note that bus eligibility changes from Kindergarten to Grades 1 to 5.  Also please note that students may not get on a bus if they have not received courtesy busing or are a registered rider.
Absence and Early Vacations

To ensure safe arrival to school, and to eliminate delays in phone calls in getting in touch with parents, we ask that you please keep us informed if your child will be absent due to illness, an appointment, vacation plans, etc.  Our phone lines are open 24-hours a day, and you can leave a detailed voicemail message at any time by calling (905) 561-0814.  (Please note that if you are calling regarding your child's absence due to sickness, please inform us if he/she has a fever.  In our attendance system, we keep track of fevers vs a "cold".)  We thank you for cooperation!
September Bus Information
Information about the bus stop location, bus number, and departure / arrival times will be mailed to you from the Transportation Department in August.  If you do not receive your letter by the end of August, please contact the Transportation Department at (905) 523-2318.
Website Translation
For your convenience, the Hamilton Wentworth District School Board (HWDSB) website is available in ninety (90) languages.  Translation is available in Arabic, Chinese, Croatian, Filipino, French, German, Italian, Polish, Portugese, Serbian, Spanish, Urdu, and many other languages spoken by families of our students.  Simply visit www.hwdsb.on.ca then click on the word "Translate" at the very top of the page, and select the language of your choice.  If you need further help with this feature, please freel free to call the office.  I would love to assist you!
هذه المعلومات مهمة للوالدين ، يرجى ترجمة شخص لك إذا لزم الأمر.
Bu bilgiler, veliler için gerekirse birisi size tercüme lütfen önemlidir
Thông tin này là rấ t quan trọ ng cho phụ huynh, xin vui lòng có mọ t ngườ i phiên dị ch cho bấ n nế u cấ n
Kindergarten Registration Has Already Begun
Kindergarten registration has already started for families with children entering either Junior Kindergarten (born in 2015) or Senior Kindergarten (born in 2014 who are not presently attending school).  For your convenience, we have attached a copy of the registration form, and have posted a copy on our website http://www.hwdsb.on.ca/sirisaacbrock/ so it may be printed and filled out before you come to the school.  In addition to the completed registration form, the child's birth certificate (or proof of birth), immunization information, and proof of address (hydro bill, lease, mortgage, etc.) will be needed to complete the process.  Please share this information with your neighbours as well as families new to the community.  For those who would like to know more about the Kindergarten program, an information evening will take place on Wednesday, May 22nd from 4:00 until 5:00 p.m.  **Please Note – students already attending Junior Kindergarten do not need to re-register for next year.**  For more information regarding kindergarten, please feel free to visit http://www.hwdsb.on.ca/kindergarten/.
Are You Moving?
If you already know you will be moving, or your child will not be coming to Sir Isaac Brock School in September, please email tdrage@hwdsb.on.ca, or call and leave a voicemail message at (905) 561-0814.  We are planning for next year, and appreciate your assistance in letting us know if you are child will not be attending our school.
Have an amazing day today!  And have a safe and memorable summer!
See you on Tuesday, September 3rd!!!
Updated on Monday, June 24, 2019.