MARCH Calendar and Weekly Reminders
I'm not sure about you but I can hardly believe that February is coming to an end.  By the end of this week, we will be entering March.  And with that, I trust that spring will soon be on its way.  In the meantime, I am attaching the new March calendar.  Please feel free to print it out and post it so your family can view it.  In addition, here are a few weekly reminders…
Monday, February 25th
* Pizza Day ($2)
Thursday, February 28th
* Bling Day
* Monthly "Honesty" Assembly (10:45 a.m.)
* Pita Pit Day
Friday, March 1st
* PA Day (**no school**)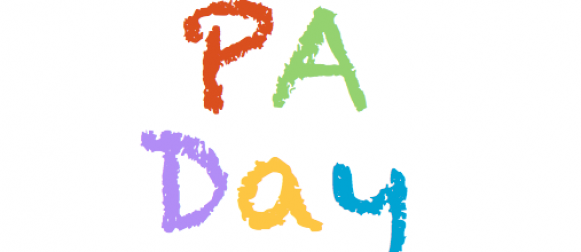 PA Day This Friday
Just a friendly reminder that there is a PA Day this Friday, which means no school for the students.  Enjoy your day!
Another Successful Pancake Day
Last Friday, our School Council hosted yet another successful Pancake Day.  With the help of our dedicated volunteers, Mrs. Neubrand, Mrs. Sjoblad (also known as Mrs. "S"), and Mrs. Jones, all students were able to enjoy two (2) or more pancakes each, along with milk to wash it all down.  Not only did our volunteers (and our Grade 5 Teacher, Mrs. Williams, our EA, Miss Anderson, and our Principal Mrs. Morabito) set up tables and chairs for this wonderful day, but they also heated up approximately eight hundred and fifty (850) pancakes and served them to our students.  On behalf of everyone here at Sir Isaac Brock, I would like to express our heartfelt thanks to everyone involved in making this Pancake Day such a success!  A warm thank you!!!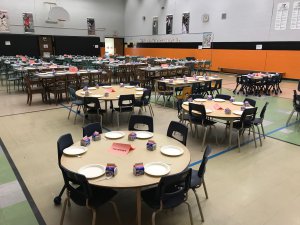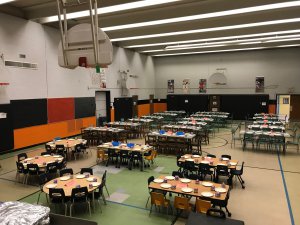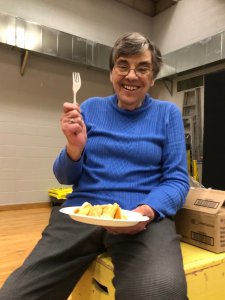 Hamilton Bulldog Game This Saturday, March 2nd at 4:00 p.m.
Thanks to the Hamilton Bulldog Hockey Club, Sir Isaac Brock School received free, complimentary tickets for the upcoming Bulldog Game.  The Bulldogs will be playing London Knights this Saturday, March 2nd at 4:00 p.m. at FirstOntario Centre, 101 York Boulevard, downtown Hamilton.  Tickets were limited and on a first come, first serve basis, so for those who requested tickets last week, tickets will be distributed to students on Tuesday.  Please note that we are NOT responsible for lost or stolen tickets.  Also please note that this is not a school trip.  As a result, families will be responsible for transportation to and from the game.  To ensure safety of our students, adults must accompany and supervise their own children at the game.  (We kindly ask that you return any tickets you do not plan to use before Friday so that we can offer other students the opportunity to go to the game.  Thank you in advance!)  For those who are going to the game, have fun!!!  And a warm thank you to the Hamilton Bulldog Hockey Club!
The Big Crunch
We are very happy to share an exciting, city-wide event taking place on Friday, March 29th!  It is called the "Big Crunch" and it is a special day of good food education, including a massive, synchronized bite into a crunchy apple to celebrate local food and healthy eating!
Pizza Days
Once again, just a reminder that pizza orders and money must be handed in to the teachers by 9:00 a.m. on Pizza Days.  This allows us time to place the order with the pizza company, and make the necessary preparations.  No exceptions will be made.  We trust you understand and will help us with this time frame.
Emergency Contact Information Changes
If your home, call, or work phone number has changed, please inform the office immediately.  In an emergency, it is important that the office able to contact parents quickly.  Your cooperation is appreciated.
Kindergarten Registration Has Already Begun
Kindergarten registration has already started for families with children entering either Junior Kindergarten (born in 2015) or Senior Kindergarten (born in 2014 who are not presently attending school).  For your convenience, we have attached a copy of the registration form, and have posted a copy on our website https://www.hwdsb.on.ca/sirisaacbrock/ so it may be printed and filled out before you come to the school.  In addition to the completed registration form, the child's birth certificate (or proof of birth), immunization information, and proof of address (hydro bill, lease, mortgage, etc.) will be needed to complete the process.  Please share this information with your neighbours as well as families new to the community.  For those who would like to know more about the Kindergarten program, an information evening will take place on Wednesday, May 22nd from 4:00 until 5:00 p.m.  **Please Note – students already attending Junior Kindergarten do not need to re-register for next year.**  For more information regarding kindergarten, please feel free to visit https://www.hwdsb.on.ca/kindergarten/.
Absence
To ensure safe arrival to school, and to eliminate delays in phone calls in getting in touch with parents, we ask that you please keep us informed if your child will be absent due to illness, an appointment, vacation plans, etc.  Our phone lines are open 24-hours a day, and you can leave a detailed voicemail message at any time by calling (905) 561-0814.  (Please note that if you are calling regarding your child's absence due to sickness, please inform us if he/she has a fever.  In our attendance system, we keep track of fevers vs a "cold".)  We thank you for cooperation!
Have a wonderful week!  Stay warm!
Updated on Monday, February 25, 2019.