Update on Diplomas
Hello graduates!  iPad/chargers/laptops/equipment are to be returned before you receive your diploma. If you are continuing your studies with Sherwood or another HWDSB program, you can hold onto your technology. Diplomas will be available to pick up from the school at the following times:
Tuesday, July 13 – Thursday, July 15 from 8:00am-2:00pm
Monday, July 19 – Thursday, July 22 from 8:0am-2:00pm

OCAS/OUAC grades and graduation information have been processed. Please check for any errors and email Ms. K. Chamoun with any discrepancies as soon as possible. You can also leave a message at 905-383-3377 ext. 4355 and someone will return your call as soon as possible. It is important that you use your personal email address in your OCAS/OUAC profiles and to correspond with your chosen institution. Your school email address will deactivate in a few weeks and you will no longer have access.
Re: Grad Photos: for those who purchased graduation photos through Edge Imaging, your photos have been mailed to your home.
Hello Sherwood Class of 2021 and Families
Our school year is drawing to a close, and for most of you, so too is your time as a student at Sherwood Secondary School. I'm sure emotions are everywhere, especially given the conditions under which you had to be a student for the last year and a half. Regardless, you deserve to be celebrated. As per the flyer below, we have set aside some time to do just that.
The specifics of our celebration of you are as follows:
Virtual Commencement Ceremony:
 
The virtual Commencement Ceremony took place on June 21, 2021 and can be viewed below:
In addition to the virtual commencement, we will be hosting a Walk-up Celebration on June 23rd and 24th from 10am-5:30pm by appointment only.
Walk-up Celebration Details:
Students of the class of 2021 may book a walk-up time in groups of 20 students per hour to walk-up and spend some time outside at the front of the school celebrating with friends (students are encouraged to book a slot with friends) and family (up to two family members per student may also attend). Students are encouraged to wear their cap and gown for photo opportunities. If you haven't picked this up, please contact the main office.
**Please note all Public Health guidelines must be adhered to including a check-in and screening process, social distancing outside of family members, and the wearing of a mask at all times by all participants except when taking a photo.
The opportunity to cross a small stage for a photo

A professional photographer who will take a picture of each student (a gift of the school)

A family photo op area

The distribution of a lawn sign and a small sweet to each student

Music and a great atmosphere

The collection of all school materials: instruments, I-Pads and textbooks.
To book a time for the walk-up celebration, please follow the following instructions:
1. Go to the scheduling webpage at 
https://sherwood-grad.parentinterview.com
2. Enter the Access Code (printed below) and click "Sign In"
Please make a note of your Confirmation #
3. Fill in your contact information and click "Continue to Make Appointments"
4. Click on "Graduation Appointments"
5. Click on an Available time at which you wish to attend the school
6. Click on "My Schedule" (top left of the page)
7. Print out, email or copy down your appointment timeThe Access Code for this term is:
shergrad

The system is set to open on June 17th @ 7 AM.
There are 20 slots each hour (10am, 11am, 12pm, 1pm, 3:30pm, 4:30pm) on June 23rd and 24th. Please complete all the time slots on the 23rd first because if we do not need too many time slots on the 24th, we may cancel that day and add on more time to the 23rd.
Thanks Saints Class of 2021. We look forward to celebrating you soon!
Walk Through Commencement Ceremony
Permission to Share Name & Image at Virtual Grad (1)
Dear Sherwood Class of 2021 and Families,
With the school year ending, it is time to finalize our commencement plans for the Sherwood Class of 2021. Please note that the last day of your regular classes has changed from my last email, it is now June 17th–those not passing have until June 24th to submit work decided upon in a credit rescue plan they developed with their teachers.
In terms of a commencement ceremony, the release of the "Province of Ontario Reopening Plan", indicates the maximum outdoor gathering we would be able to have before the end of June is 10 people. It is with this and the safety and well-being of all in mind, that we have finalized the following plans for the Sherwood Secondary School Class of 2021:
We will host a virtual commencement ceremony using Teams Live on June 21st at 7pm (link to be shared).
School visits will be arranged for a maximum of 10 students at a time (if Step 1 of the Provincial Reopening Plan occurs by June 14th as indicated) from June 22-25th (sign up information to come). During these pre-scheduled visits, students will be greeted under the front entrance awning with grad decor, music, a staff signed scroll, a lawn sign, a professional photo opportunity and a little Sherwood specific treat. There will also be an area decorated for professional photos to be taken–students are encouraged to wear their cap and gown as Edge Imaging will be there to take a professional photo for each grad (the cost of which will be covered by the school).
During this time, students are asked to drop off any school items including text books, library books and I-Pads.
The Valedictorian address to the graduates will take place live during our commencement ceremony. We are currently shortlisting from 20 applicants and students will be given a chance to vote on those shortlisted–more info on this to come.
To further support our virtual commencement, we need some important things from you:
A photo in your gap and gown: If you had a graduation photo taken by Edge Imaging, we have it. If you didn't, please submit a photo of you in your cap and gown (these were provided to graduates by the school–if you have not picked one up, please email Ms. Smith (bjsmith2hwdsb.on.ca) or call the school to arrange at time. Photos are to be submitted ASAP to this MS Form link:

Form: https://forms.office.com/r/L2PMamUrXb The final deadline for photo submission is June 7th.
Any photos/videos that you want to share of you and your classmates to be included in a supporting video being creating by some Sherwood students to honour our graduates. These can be from any of the years you were here at Sherwood–they will be screened for appropriateness (no pictures that violate the school/Board code of conduct will be included).

A short video message you'd like us to consider including at the beginning or end of the commencement ceremony. This can be your thoughts on graduation, advice, thoughts about the future, thanks to family, etc. Please keep this message to around 10 seconds(ish).

A confirmation of your agreement to be included in the virtual commencement ceremony (please see the attached form and return to Ms. Smith (bjsmith@hwdsb.on.ca) or call the school. Please note: We will take the absence of a submitted form for consent.
Again, all photos/video messages are to be uploaded to this MS Form link: https://forms.office.com/r/L2PMamUrXb and the consent form submitted to Ms. Smith (bjsmith@hwdsb.on.ca) by June 7th.
If you have problems uploading photos and videos, please contact Ms. Zsiros (jzsiros@hwdsb.on.ca) or Ms. Grilli (egrilli@hwdsb.on.ca).
Awards not determined by marks will be noted at the commencement ceremony. Those that require marks to decide (marks are not due until June 28th), will be determined in the fall and mailed out to students.
Diplomas, transcripts, report cards, award certificates etc., will be mailed out to students in the summer.
That's it for now. More info to come as noted above. In the meantime, hold the date for our virtual grad and send in your photos/videos/form.
Thanks
Grad photos sessions are scheduled to be held at the school from Monday March 22nd until Thursday April 1st.
Booking your Grad Photo Session
Graduation is coming (date and details to follow)! But let's get started with a photo! Our photography partner Edge Imaging will be holding photos at our school on Monday, March 22nd through to Thursday, April 1st to help students commemorate their senior year of high school. Students can make their photo session appointment by signing up online at www.bookmygrad.ca
To book your session at the school (March 22 – April 1):
Once you get to the main page – students will select the photos at my school option to get to the correct booking schedule.

Once you select the book at my school option. Enter code: SHE at the bottom of the page.

Then select the sitting and scroll down to see the available schedule to pick the best time and date for you.

After you finish your booking. You will receive an email confirmation stating the date/ time.

For more information on graduation photo day, please visit edgeimaging.ca/graduation.

Photos will take place in Room 1044.
  Studio dates are available now for remote students to book at the lab in Burlington.
To book your session at the Edge Imaging studio:
Go to: www.bookmygrad.ca
Once you get to the main page – students will select – Book a session at an edge studio.

They will then select: Book now – Burlington

Book your appointment

Enter code: SHE

They will select the sitting, it will highlight in blue and then they will scroll down to see the available schedule to pick their date and time.

After they finish their booking. They will receive an email confirmation stating the date/ time and the location with Edge's address on it.
Sherwood Secondary School has ordered a grad gown, cap, tassel and v-stole for every 2020-2021 graduate. They are now available for pick up in the Main Office (at no charge). Please call or email the school to reserve your size.
Sizing:
Size 45: 5'0-5'3
Size 48: 5'3-5'6
Size 51: 5'6-5'8
Size 51+: Full Fit
Jostens Graduation Rings
Students interested in graduation rings, please contact Jostens directly (click on image below to go to their website)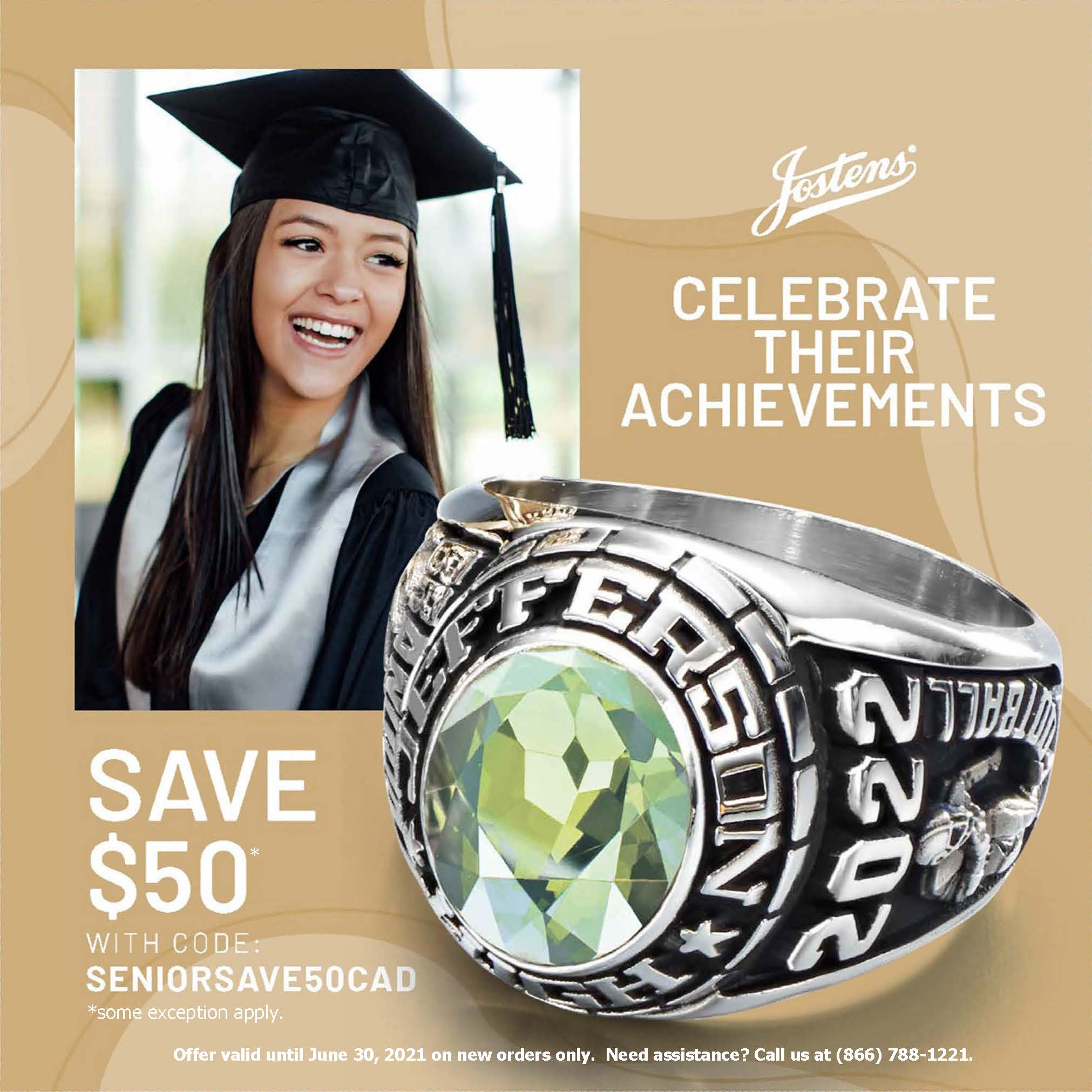 Updated on Wednesday, August 25, 2021.