Building Careers From the Ground Up: Construction Program
This is a unique six credit, all day, full semester program. It provides students with the opportunity to experience the many skills and trades available in the home building industry. Students have the opportunity to earn six credits in Senior Construction Technology through in class and cooperative education modes of delivery. Students will also obtain Fall Protection Training and WHMIS Certification. In the process, they will construct a house from the foundation up, together with one of our community partners. This program started 7 years ago with a house being built for Homes By DeSantis in Stoney Creek. Since the program started we have built one house a year, partnering with John Bruce Robinson Construction Ltd. in Binbrook, and most recently with New Horizon Homes.
Students will:
Develop skills necessary for success in the highly competitive world of home construction.
Be eligible for apprenticeship opportunities through the Ontario Youth Apprenticeship Program (OYAP).
Develop critical skills that are transferable to any post secondary destination and the world of work.
Make contact with potential employers for future employment.
Currently, this program runs only during Semester One. Long days and relevant Co-op placements allow students to earn up to 6 credits.
Building Careers from the Ground Up application
Caring For Our Future: Healthcare Support Services Program
As our population and workforce ages, the need for highly skilled healthcare employees has become paramount. In response to this need, the Healthcare Support Services Program is intended to provide career preparation for senior secondary students with an interest in pursuing a healthcare career. The program design enables students to gain the necessary knowledge, skills and behaviours they will need to participate in related cooperative education experiences in customer support services roles at a Hamilton Health Sciences (HHS) hospital site. Examples of customer support serv¬ices roles include Environment Aide and Porter. This unique experiential learn¬ing opportunity is being offered in partnership with Hamilton Health Sciences as a four-credit school-work transition pro¬gram. This program will be offered each semester.
Students Will Learn: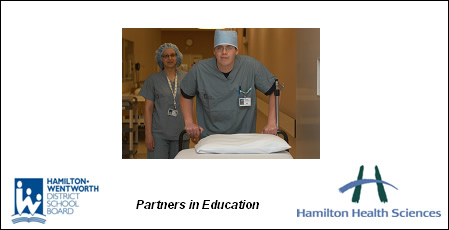 An overview of the health care industry;
Service excellence (including quality management, professionalism, confidentiality and communication skills);
Principles of infection control;
Body mechanics and waste management;
An overview of human anatomy & physiology, and basic medical terminology;
Health and safety issues in healthcare;
Healthcare career opportunities through interactions with a variety of healthcare professionals within the classroom and the local healthcare community
During this all-day semester-long program, students will have the opportunity to:
Earn 4 secondary school credits (two credits in Healthcare Support Services and two credits through Cooperative Education)
Spend the entire semester at Hamilton Health Sciences with a HWDSB teacher and a variety of healthcare workers within one of three acute care hospital sites; all in-class instruction will be held at Chedoke Hospital – Wilcox Building
Develop the skills necessary for success in a healthcare career
Make contact with the largest healthcare employer in the region
Receive certification in Healthcare Support Services endorsed by Hamilton Health Sciences and the Hamilton-Wentworth District School Board upon successful completion of the program
Admission to this limited enrollment program will be based on a selection process and interview. Apply now!
Healthcare Support Services application
Lime Ridge Mall Community Co-op Program
The Lime Ridge Mall Community Co-op program is offered off-site at the K-Lite FM Building. Co-op placements are within Lime Ridge Mall and the surrounding area. This program accepts applications on a "continuous intake" basis. Students from any Secondary School in the Hamilton Wentworth area are invited to apply.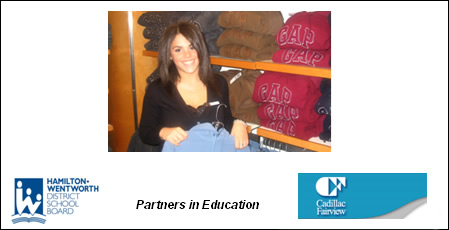 The 4-credit (full semester, all day) program gives students an opportunity to earn one credit in "Discovering the Workplace" (GLD2O1), one credit in "Navigating the Workplace" (GLN4O1) and two credits in an appropriate related course through Cooperative Education. The two in-school courses offered in this program are intended to help students develop the knowledge and skills necessary for success in today's workplace.
"Discovering the Workplace" helps students identify and develop the workplace essential skills and work habits that are required for success in the workplace. Through various experiential learning opportunities, students will prepare for, and complete, two work experiences in Lime Ridge Mall or within The Hamilton-Wentworth community.
"Navigating the Workplace" will enable students to further develop the workplace essential skills and to explore the workplace through experiential learning opportunities. The combination of course material, work experiences and Cooperative Education will assist students in making a smooth transition from high school to their chosen post-secondary destination.
Contact Student Services in your school for more information and an application form. You can also visit the classroom site or call for more information:
Lime Ridge Mall Coop Classroom
205-883 Upper Wentworth St. – K-Lite FM Building
Hamilton, ON
Teacher: Mr. Joe Henderson 905.383.6665
Militia Co-op Program
The Army Reserve Co-op Program is an opportunity for students to gain experience in a military environment, develop self-confidence, leadership and teamwork skills, while earning high school credits. This program runs Semester Two only, and students can earn 4 credits.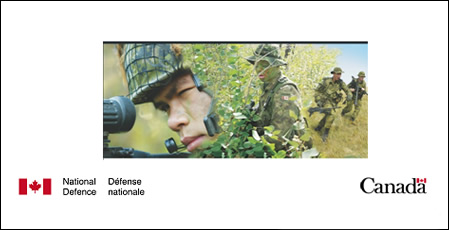 Students spend the semester at an Armoury (James Street North, Hamilton), arriving every morning and returning home every evening. Students may be required to work several weekends/evenings over the semester, but generally do not train on weekends. The student will attend high school classes at the Armoury in the morning (2 credits – one in Phys. Ed. and one in Math). Students complete their Basic Military Qualification (BMQ) training in the afternoon (2 credits through Co-op).
Students in this program are signed into one of the Reserve Units participating in this program. Students in this program are paid approximately $212 (gross pay) per week for the military training portion of the program. There is no cost for the uniform and field equipment.
Upon completion of the program, successful students can continue with their unit on a part time basis (approximately one night per week, and weekend per month – paid). Employment for the summer is also available for students who successfully complete the Co-op program.
Updated on Wednesday, April 20, 2016.